Mar 16, 2015
30% have taken steps to protect their privacy online since Snowden leaks, but most find it confusing or have never heard of possible measures.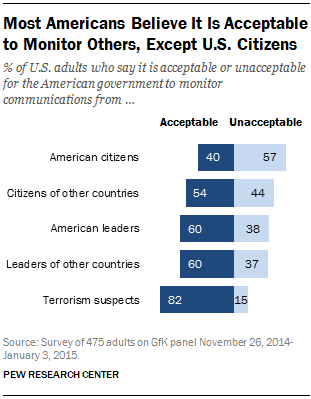 Pew's most recent examination of public opinion on surveillance in the post-Snowden era has some heartening conclusions mixed in with disheartening ones. Two years after the Snowden leaks...
the vast majority (87%) of Americans have heard something about the government surveillance programs to monitor phone and internet use;
61% have become less confident that the surveillance efforts are serving the public interest;
57% say it's unacceptable for the government to monitor the communications of US citizens;
1/3 of those aware of the program have taken at least one step to hide or shield their information from the government (40% of those under 50);
1/4 of those aware of the program have changed the patterns of their own use of various technology platforms.
Although a third or a quarter doesn't seem like much to celebrate, those numbers are significant given how difficult many Americans find it to increase the protection of their personal data. 54% believe if would be "somewhat" or "very" difficult to find tools and strategies to help them become more private online and in using their cell phones. Many respondents (13–39%) had not even heard of the various tools mentioned in the questions, such as Pretty Good Privacy (PGP), Tor, DoNotTrackMe/Blur, Privacy Badger, email encryption, non-tracking search engines, and proxy servers.
Gizmodo does a pretty good job of examining some of the details from a citizen/user perspective.
More disheartening are the attitudes Americans take toward surveillance policies. While about half say they are "very" or "somewhat" concerned about government surveillance, majorities or pluralities are "not very" or "not at all" concerned about specific surveillance of their own digital lives, including email messages, search engines, cell phones, mobile apps, and social media. Because many Americans believe that innocent people have nothing to hide (and thus nothing to fear from surveillance), they are relatively comfortable with surveillance of their own activities. This is a curious reversal of the usual opinion trend: Americans are less comfortable with surveillance on an abstract level than they are on a concrete level.
When it comes to surveillance of others, majorities think monitoring specific target groups is acceptable..."as long as the targets are not average Americans."
Read the full article here. Read the part about views of government surveillance programs here.