Apr 7, 2014
54% support aggregate limits, but Americans are less sure about effects of limits on corruption.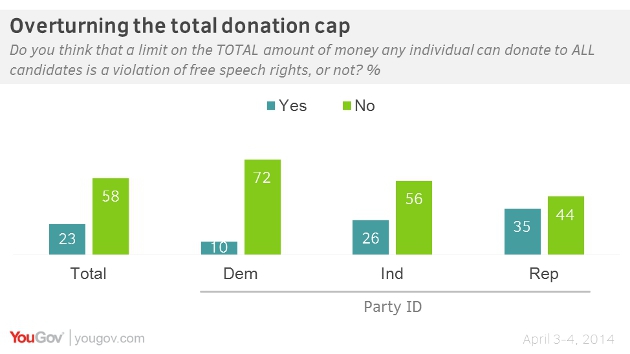 A clear majority of Americans disagrees with the Supreme Court on aggregate campaign contribution limits and free speech: by 58-23% the public says "a limit on the TOTAL amount of money any individual can donate to ALL candidates" is not a violation of free speech. Partisan differences are significant here: Democrats say aggregate limits are not a violation by 72-10%, while Republicans are much more closely divided, 44-35%. Independents fall close to the average, with 56-26% saying limits do not infringe on First Amendment rights.
This YouGov poll, conducted April 3-4, also found that Americans support aggregate limits by 54-32%. Partisanship again plays a role, with almost 20 points between Democrats (63-24%) and Republicans (46-39%), but more people favor limits than oppose them across all parties.
YouGov also asked several questions about the effects of contribution limits on corruption. While a plurality of respondents said individual and aggregate limits reduced corruption (about a third in each case), very high numbers thought such limits had no effect or increased corruption (about a quarter in each case). A recent Reason-Rupe poll shows that Americans do see a connection between campaign contributions and corruption in politicians. The YouGov questions on corruption, which are long, may have been better worded as, "What effect, if any, do [limits] have on corruption in politics?"
Read the Huffington Post article here.
Read the YouGov article here.