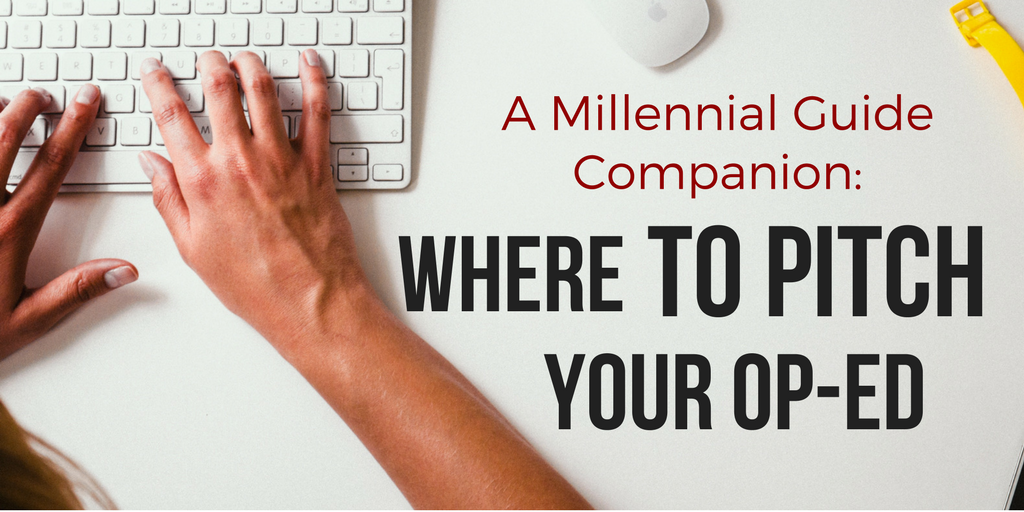 A Millennial Guide Companion: Where To Pitch Your Op-ed
A comprehensive list of all the outlets in our Millennials & New Media Guide with strong opinion sections––and pitching tips, to boot.
ReThink recently released our Millennials & New Media Guide: a resource that walks you through the most popular news outlets, websites, and podcasts that millennials and Gen Z'ers consult to get their daily news fix.
The Guide features everything from podcasts to online streaming services to newsletters. You may be left wondering: I wrote a good old-fashioned opinion piece. Which of these outlets will actually print my op-ed?
To save you some legwork, ReThink has combed through our Millennials & New Media Guide to identify outlets with strong opinion sections––that could soon feature your very own op-ed.
Here's our list, along with a short summary of each outlet's tone, areas of coverage, and (if applicable) avenue to submit your piece. We encourage you to look at the Opinion sections on each site to get a sense for length, title, and topic of other op-eds.
An online magazine featuring compelling commentary on gender-in-Islam from both the male and female, Muslim and non-Muslim, perspectives. AltMuslimah publishes a combination of analysis and personal stories, and editorial staff works with contributing writers to revise pieces. Categories include Politics, Family, Community, Culture, Relationships, Columns, and Altfem.
You can submit your article here.
A nonprofit, independent, feminist media organization dedicated to providing and encouraging an engaged, thoughtful feminist response to mainstream media and popular culture. Categories include Activism, Art & Design, Books, Culture, Music, Politics, and Screen. Bitch Media publishes nonfiction articles only, and any first-person essays should relate to a larger issue than one individual's story.
You can submit your article
here
.
A tech company whose mission is to economically and creatively support Black millennials across the African diaspora, so they can pursue the work they love, and change the world in the process.
Categories include News, Tech, Videos, Series, Opinion, and Finance.
You can submit your article here.
A women-centric website and digital news channel from VICE that focuses on women's interests and the world from a distinctly female point of view, telling women's stories through long form journalism and original online video. It explores "sex, politics, culture, witchcraft: women's news you thought would exist by now."
Broadly has an Opinion section; you can find contact information for their Editorial staff here.
A news and opinion website that provides a fresh spin on news, entertainment, fashion, beauty, lifestyle, books, and any and all subjects that concern women. The website targets women ages 18 to 34, focusing on general interest topics from a female angle. Categories include News, Entertainment, Beauty, Fashion, Lifestyle, Tech, and Food.
Check out Bustle's own tips for pitching your personal essay here, and then submit your piece.
An independent digital media company delivering news and entertainment to hundreds of millions of people around the world. You may have seen Buzzfeed's list-style articles, or read from the robust Buzzfeed News section, but did you know you can submit longform, personal essays to Buzzfeed Reader?
Scroll down for their Masthead, so you know which editor to pitch.
A daily news site where race matters, featuring award-winning investigative reporting and news analysis. The Editorial section presents articles written by leaders, organizers and authors of color on topics such as racial issues, arts, and relevant social issues.
See all the details on submitting your own article here.
An international fashion magazine for women. Often referred to as Cosmo, its content includes articles on women's issues, relationships, sex, health, careers, self-improvement, celebrities, fashion, and beauty. Cosmo prints personal stories; to find out who to pitch yours to, check out their company Masthead here.
An online platform that champions radical fashion and youth culture, defining the times with a vanguard of next generation writers, stylists and image makers. Dazed has a dedicated editorial and video team covering news, fashion, culture, music and art.
Find the appropriate editor to contact with your piece here.
A social action platform that covers major issues on the planet including topics on women's issues, health, education, finance and innovation, food and hunger, water and sanitation, environment, citizenship and more. In Global Citizen's News section, there are plenty of opinion pieces and articles highlighting the work of nonprofits around the world.
You can submit your story here.
A positive online community for women (although men are always welcome!) covering the latest in beauty, fashion, lifestyle, female empowerment, culture, relationships, friendship, careers, and issues that matter most to young women's lives. "We're especially interested in personal essays and cultural criticism with unique and diverse points of view, LGBTQ perspectives, smart articles with original reporting, and illustrations."
More submission tips and Masthead here.
An online news source that covers domestic and international news and politics, culture, business, science, media, technology and the millennial generation. Mic includes many verticals including Hype, The Future is Now, PayOff, MultiPlayer, The Movement, Slay, Navigating Trump's America, Out of The Office and Strut. You can submit your personal essay to submissions@mic.com, or check out their Masthead to contact a specific editor.
An online publication covering news and culture. The website is dedicated to bringing its readers features on people, places, trends, ideas and opinions before it's covered by mainstream media. Ozy also has a growing opinion section. Email your story pitch to freelancers@ozy.com.
A digital news outlet that features the latest business and financial news, with in-depth statistical analysis, emerging trends and more. Quartz has an "Ideas" section that prints pieces combining personal narrative with new ideas/arguments about larger topics. Here's the Ideas Editor's guide on how to pitch Quartz; once you've read through it, email ideas@qz.com with your pitch. An editor will work with you to refine your piece.
An online destination for discovering the latest and best in independent fashion, beauty and style. Main categories that feature on the blog include Fashion, Beauty, Living, Entertainment, How To and News. Refinery29 also has a "Strong Opinions" sections, and accepts pitches for submissions at submissions@refinery29.com.
An online publication that targets the general interests of the online creative and alternative communities. Sections include: News, Entertainment, Books, Life, Sustainability, Tech & Business and Food. Check out their guidelines on story submissions, and then email your pitch to the appropriate section (you'll find email options in the guidelines page above).
An online news source that provides analysis and commentary about politics, news and culture. Slate examines current events through a critical lens and offers fresh perspectives on the arts, business, technology, science and more. Definitely read through Slate's specific guidelines for pitching your piece, and scroll down for the appropriate editor's email.
A digital and print magazine analyzing world events and news from a Christian perspective, and providing a synthesis of faith, culture, and politics with an emphasis on integrating the search for spiritual renewal with social justice. Read through their submissions guidelines and email yours with the word "submission" in the subject line to cwoodiwiss@sojo.net.
An online magazine written for sophisticated teenage girls. Its content focuses on issues relevant to teens including fashion, make-up, shopping, music, celebrities, and general news. Opinion pieces often feature young voices, and/or stories on topics that are especially relevant for young people. To pitch your piece, find the appropriate editor on Teen Vogue's Masthead.
A site for women who want to view the latest fashion trends, read provocative takes on issues from politics to relationships, and preview new products. Sections include Style, Self, Culture, and Power. The Cut's content is provided by New York Magazine staff.
Send your op-ed pitch to editorialsubmissions@nymag.com, and specify that you're writing for The Cut.
An online publication that adapts the community newspaper concept to online communities, and covers online news, events, viral trends, online cultures and more. For feature pitches, consult the appropriate editor for each section.
Layer 8: acouts@dailydot.com; Debug: mwehner@dailydot.com; Unclick: miles@dailydot.com; Upstream: ramon@dailydot.com; IRL: jmachado@dailydot.com; Parsec: sarah@dailydot.com.
A website that seeks to inspire young, career-driven women. It offers personal finance tips and information on careers, fashion, lifestyle and more. Blog categories include career and finance, culture, fashion and beauty, living, travel and wellness. Pitch your piece by emailing submissions@theeverygirl.com.
A digital magazine that produces original investigative reporting, analysis, and multimedia content focusing on national security, politics, civil liberties, the environment, international affairs, technology, criminal justice, media, and more. Submit your op-ed to submissions@theintercept.com.
An online news source whose coverage focuses on three topics that are increasingly converging in strange and important ways: power, culture, and the future. Email your opinion submissions to pitches@theoutline.com, and/or check out their Masthead to contact an editor directly.
A technology and media company aimed at building, amplifying and connecting innovative products and experiences for diverse millennial women. The Tempest includes verticals such as Life, love, News, Social Justice, and Pop Culture. Here's an in-depth guide to each vertical, and how to pitch your story.
A nonprofit organization and website that focuses on political news and analysis. It discusses current events and news and offers political commentary. The Speakout section in particular includes "quirky, personally reflective, or activism-focused" op-eds. Make sure to read through their (very particular) submissions guidelines before emailing your pitch to editor@truthout.org.
A global media channel that offers on investigative journalism features and enlightening videos an array of controversial topics world news, travel, art, drugs, politics, sports, fashion, sex, and super cute animals. Sections include News, Music, Travel, Health, Impact, Tech, and NSFW. All editorial pitches should be sent to editor@vice.com.
An online news source that features data journalism, breaking news analyses, fact run-downs and more. Vox provides context for sound bytes, trends and other viral topics, as well as a platform for topically relevant think pieces and opinion. Submit your story pitch to Christopher Shea, Senior Editor of Perspectives; find his information
here
.
An online news source focusing on multimedia, cyberspace, cutting edge technologies, high definition television, virtual reality and the electronic frontier. WIRED centers on the culture, business, politics and personalities that surround such technologies and push them forward to the 21st century. Submit your op-ed pitch to opinion@wired.com.
After you've figured out where you want your op-ed placed, remember the rules of pitching:
Keep it short, keep it newsworthy, and offer a concrete resource.
Good luck placing your piece, and happy pitching!

Are you a member of the ReThink community and would like a copy of the Millennials & New Media Guide, hot off the press? Email millennials@rethinkmedia.org or reach out to your ReThink contacts to request a copy.

Think we missed an outlet that belongs on this list? Tweet to us at @rethink_media to let us know!