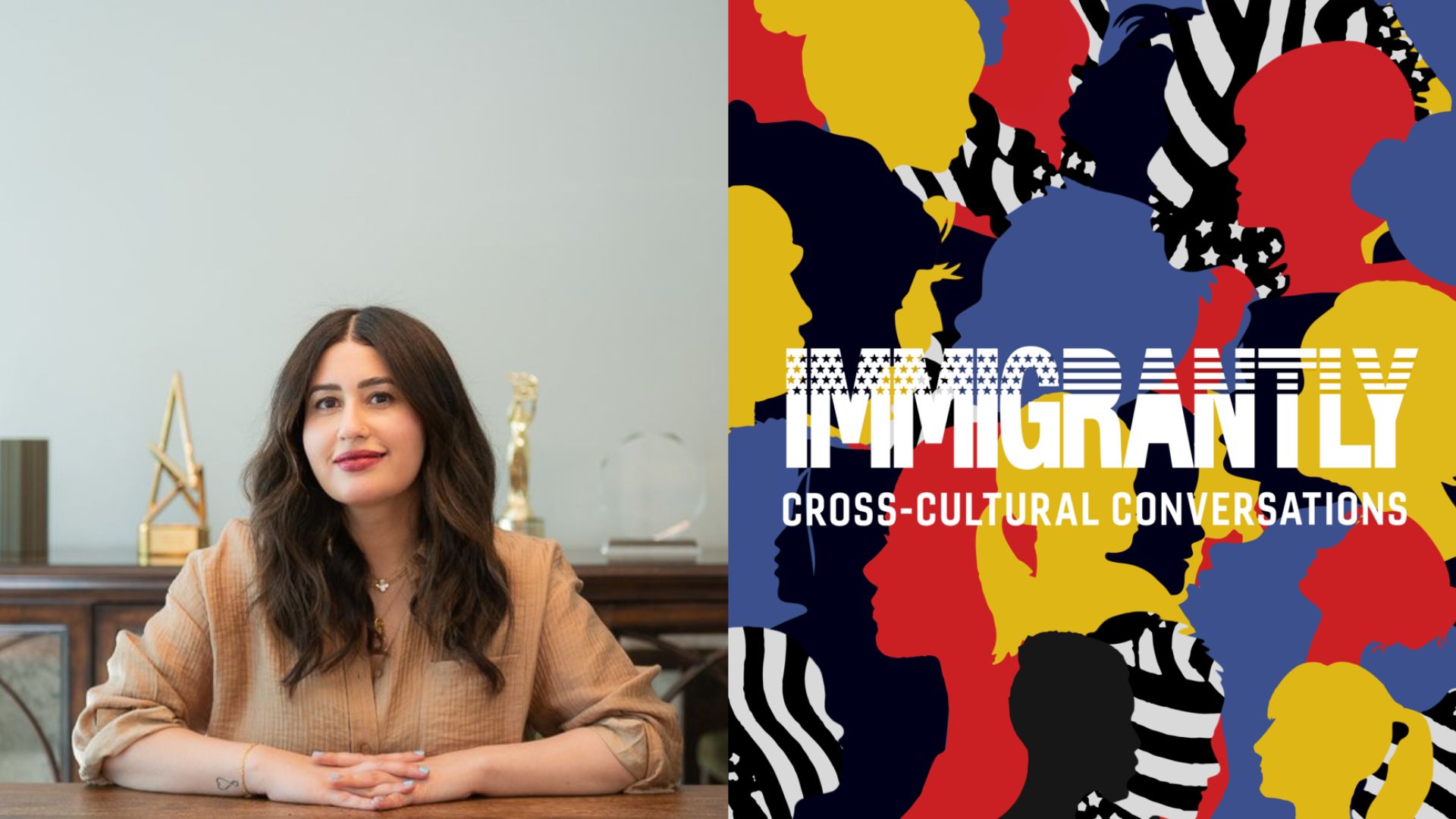 Should You Start a Podcast? Insights from a Conversation with Independent Podcast Host, Saadia Khan
To mark International Podcast Day, we spoke with podcast host and producer Saadia Khan about the benefits of podcasting and how to start your own podcast.
More of the U.S. population is listening to podcasts than ever before, with the percentages reaching record highs in 2023. As part of ReThink Media's ongoing series of trainings and online resources on audio journalism, Rights & Inclusion Fellow Lily Lucas recently spoke to podcast host and producer Saadia Khan about the benefits of podcasting and how to start your own podcast.
September 30th is International Podcast Day, an international recognition of the power of podcasts. To mark the occasion, I interviewed Saadia Khan, the founder, host, and producer of award-winning weekly podcast, Immigrantly, which features deeply personal conversations on race, identity, and the immigrant experience. Saadia has hosted and produced 185+ podcast episodes, interviewed 235+ guests, and has received several awards. She writes for publications including Brown Girl Magazine, the Globe Post, and Medium. Not only is she a podcaster and journalist, Saadia is also a human rights activist who has worked with UN Women and other United Nations entities representing civil society organizations.
For this article on how and why to get involved in podcasting, Saadia and I discussed her experience starting her own podcast and what knowledge she could share for others looking to start podcasting. We also talked about podcasts as a tool for social change and how they can be used as a resource for nonprofit organizations and activists. As someone with expertise in both organizing and audio journalist spaces, she provided great insight into producing a podcast and the power of audio journalism for activism.
Why podcast?
There are many reasons why people start podcasts; some are inspired by major current events, some want to offer a unique perspective on a popular topic, some want to shed light on something that many people don't know about, and some just want to talk about their interests with their friends. For Saadia, the election of Donald Trump was the catalyst for Immigrantly:
"The 2016 elections happened and all of a sudden, immigrants and Muslims, minorities, in fact, were othered in an instant. And I had lived in the US for almost two decades and I realized that no matter how successful you are or whether or not you've 'made' it, you could still be othered as a minority in an instant and could be relegated to the fringes of a society. And that's when I thought I could no longer sit on the sidelines…so I thought, 'why not use podcasting as a medium to share stories around immigrant identity?'"
Starting your podcast
For those who are looking to start their own podcast, Saadia emphasized clarity of purpose: "Answer the why…it's extremely important to be intentional about why you're creating a podcast. How will it benefit audiences, listeners, why should listeners come to you instead of somebody else?" The podcast market is extremely saturated, making it difficult for many podcasts to stand out. Spotify boasts 5 million podcast titles on its platform alone, and there are an estimated 70 million podcast episodes globally with more than half of podcasters publishing new episodes once a week or more.
This means that it is incredibly competitive to capture an audience's attention. Given the wide variety of options, successful podcasts need to either cover a niche topic that is otherwise underrepresented, or take on a popular topic from a fresh perspective. The "why" will look different for everyone, so think about what resonates with you. Do you want to teach audiences about something they may not be aware of, or show them a new way of thinking about something that's on everyone's minds? How you answer this question may affect the reach of your podcast at first, but don't let that discourage you from pursuing what truly interests you.
When starting your podcast, one thing to consider is if you want your podcast to have an organizational backing, such as a nonprofit, or if you'd rather podcast independently. Both options offer different pros and cons. If you podcast on behalf of an organization, you will likely have access to some funding, resources, and a built-in audience of supporters. It could also help establish your credibility as an expert in the field. However, you may find yourself beholden to the interests of the organization and limited in your creative freedom.
For Saadia, remaining independent was the best decision for Immigrantly and their team:
"Not being accountable or beholden to somebody else gives us a lot more creative liberty in terms of the kind of conversations that we are having…we experiment a lot which is such an incredible and interesting space to be in because if we have a topic in mind that really speaks to us and speaks to our sensibilities, we're like, 'okay, let's do it'."
If you podcast independently, you will have to fundraise independently and build your audience from the ground up. But, you will be able to talk about whatever interests you and your team without having to navigate any bureaucratic red tape. Take time to reflect on your priorities before deciding which route to follow.
The technical side of podcasting
There are also many technical considerations when it comes to starting a podcast. As an independent podcaster, it was a learning curve for Saadia to learn how to produce her own show: "We have grown tremendously in terms of our production quality, in terms of our thematic depth, and we are really proud of it. But to be honest, it took me a while to learn and unlearn a lot of stuff because I don't have a background in audio production."
This may not be the case for everyone depending on the level of experience they have and if they have the backing of a larger organization to help pay for equipment and training. If you decide to take on podcasting, consider enrolling in a training program. Programs include:
Even if you decide not to start your own podcast, there are still many ways to get involved with podcasting as an organization or as an individual. You can pitch a story to a podcast, or pitch yourself as an expert. Many podcasts rely upon guest speakers who can bring attention to an issue and explain it in-depth. Take a listen to a clip from my conversation with Saadia, where she talks about how her team develops an episode and preps to interview a guest:
Additionally, podcasting has the ability to connect with listeners in a way that nonprofits may not be able to do on their own.
Podcasting for social change
If you are an advocate hoping to pitch yourself or your work to a podcast, focus on the narrative element of your work. While data and numbers can be powerful, Saadia has found that human stories resonate strongly with audiences and help them better grasp the ideas that the podcast lays out:
"We all have similar stories and similar backgrounds and so for me, a lot of times when nonprofits that work on specific issues present those issues in a more academic way, it's difficult for people to connect with or understand. But if that research is synthesized into a story or a conversation or a narrative, it becomes more powerful and people are able to resonate with it and people are able to be empathetic towards that issue."
At Immigrantly, Saadia and her team seek opportunities to integrate the work of nonprofits into the podcast. If you want to pitch a podcast, try to answer this question: how can you get people to connect with an issue they may not have personal experience with and empower them to take action? Once you have your answer, you'll have better success with your pitches and can create a greater impact by getting your message on a podcast.
I asked Saadia, how can we as listeners respond to what we're hearing in a way that is productive? For many, it can be easy to listen to a podcast about a serious issue that needs addressing, then turn it off without knowing how to take action. Saadia stressed that, "we all come with our preconceived notions of what should or shouldn't be, and we all have a baggage of what we've been conditioned to believe in, but having an open mind when we are listening and having an open mind to unlearn some of it is extremely important."
Immigrantly's goal is to "empower our listeners to be critical thinkers because we offer them space to think about things that may not have been part of their consciousness." By starting a podcast or collaborating with one, you have the opportunity to expand the consciousness of your listeners and introduce them to new concepts and ways of thinking. You can provide a space for open-mindedness and education along with resources that will empower them to make a difference in the world.
Final takeaways
As I reflect on my conversation with Saadia, I'm reminded that podcasting is here to stay and it will remain a powerful tool for social change. Podcasts like Immigrantly have the ability to challenge our perceptions and inspire us to take action with dedicated reporting and expert guests. Though the market is saturated, the number of listeners grows every day and audiences are always ready for new and inspired content. Whether you decide to start your own independent podcast, podcast on behalf of an organization, pitch yourself or your ideas to a podcast, or just engage with podcasting as a listener, the impact of podcasts is tremendous. I hope that as we mark another International Podcast Day, the information shared here will help you along your own podcasting journey.
Learn more about Immigrantly and find episodes here.
And for more analysis on how podcasting and audio journalism can work for your cause check out my July blog: "Get your story heard: Tips for pitching to podcasts and radio."
More About Saadia Khan
Saadia Khan is an immigrant, rights activist, podcaster, and social entrepreneur. She is also the founder, producer, and host of an award-winning weekly podcast, "Immigrantly," which features deeply personal conversations on race, identity, and the immigrant experience. She holds a Master's in Human Rights Studies from Columbia University and has worked with UN Women at a small civil society organization focused on women's rights. Previously, she worked as an interpreter for Human Rights First. She is the Board Member of Hearts and Homes for Refugees, a community-based nonprofit focused on resettling refugees in the Westchester, NY, area. She writes for publications, including Yes! Magazine, the Brown Girl Magazine, the Globe Post, and Medium.