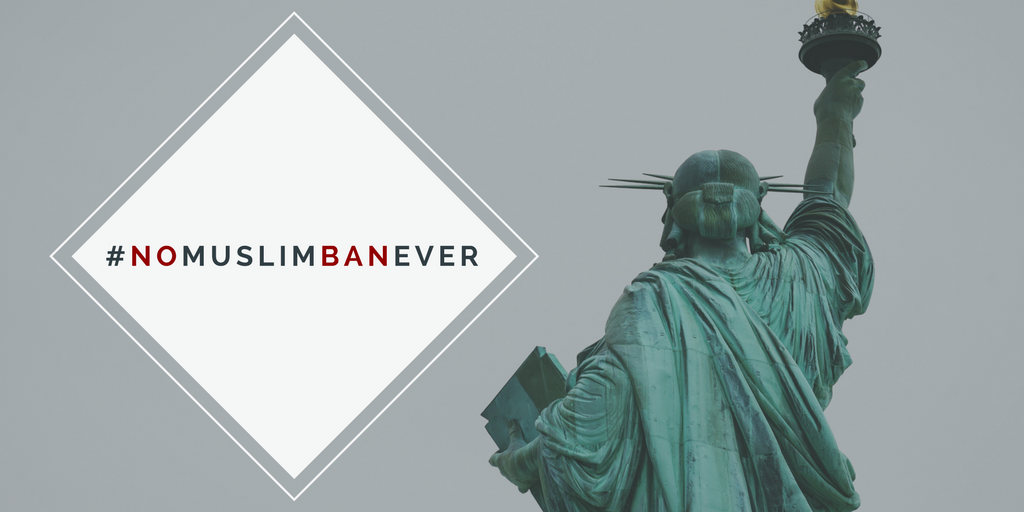 Voices of the Muslim Ban (and Tips for Capturing Your Own Stories)
February 27, 2018 - 2:42pm
Some of the most impactful personal stories of the Muslim Ban, plus tips on how to effectively tell your own.
For more than a year, President Trump's Muslim Ban has separated families and thrown the lives of impacted individuals into turmoil. As the courts decide the legal merits of the President's effort to turn campaign rhetoric into public policy, we must never lose sight of the real and devastating effect on human lives.
As you will read below, those impacted are not the mustache-twirling evil stereotypes of Trump's fear-based speeches. They are infants. They are mothers. Some are Americans. They are a few of the many voices of the Muslim Ban.
I am a proud American and a practicing Muslim. Amal, who is a Yemeni citizen, and I married young. Our second daughter, Nawal, was born with meningomyelocele (spina bifida), a very serious birth defect. To save the life of our daughter, Amal and I separated our young family.
My wife, her visa process stymied by the Muslim ban, has been sickened at times by grief and it pains me to hear her cry when we talk on the phone. As of today, my wife had not seen Nawal in 264 days.
Naief sits, tightly clutching his cellphone as his eyes remain fixated on the screen. Staring back at him is his daughter Ghazal, 22. It is midnight in Amman, Jordan, where Ghazal and her husband spend their days desperately searching for a way to reunite with her family in the US.
"I have nobody here," Ghazal says over FaceTime.
The president is famously fond of his daughter Ivanka, [Naief] notes. "Would he be able to tolerate leaving his daughter in such a terrible and tumultuous situation?"
With his house and shop destroyed in the war, Gabr, 47, brought his family to Egypt. Finally, 2 months ago, the family was granted visas. Then this weekend, Gabr was told about the executive order newly signed by President Trump.

"It is an unjust decision, but we still wish to go to the U.S.," he said. "I know the American people understand our suffering and feel for us...at the end, I have a right to feel free and safe. At the end, we are humans."
I am an Iranian, a journalist, a campaigner against Islamic extremism and a 40-year-old mother. [Trump's] executive order...could prevent me from seeing Pouyan, my only child, who is a now a student in the U.K.
I am unsure...if can I go visit him, without being deprived of the right to come back to the U.S. Having my son with me kept me connected to life. He gave me a reason to go on. I know very well that ordinary people will be suffering immensely. I know because I already am.
Arefeh - my fiancée - and I fell deeply in love. She's a lovely girl with such a pure heart. In July 2017, after getting engaged with Arefeh, I returned to the US. We waited for her visa application to be processed. When President Trump's travel ban came into effect, they denied her the Visa. She asked me while in tears, "they think I'm a threat?"
On the day I became a naturalized citizen...I held up the American flag and waved with pride. Now I don't feel welcome, and I believe I can no longer call this land, my home.
"Here, on the eastern tip
of the Brooklyn-Queens border, even after
each new court injunction against 45's travel ban,
the guards operate
as if we lurk
America."
When college student Abdualrahman Zaid sold his family's belongings, he had one thing on his mind — a fresh start in the U.S. Zaid is from Yemen, and had won the 'green card lottery' in 2016. All was going smoothly until President Trump was elected and issued his so-called Muslim Ban. "I was dreaming about a life of security, stability, justice... now, I don't know. I'm very worried about my future, because of the war that's happening in this country."
I was flying back from my sister's wedding in Sudan when customs and border protection agents stopped me in Saudi Arabia for 14 hours and in L.A. for almost 5 hours. They told my mom, a U.S. citizen, she could return to California, but I, a green card holder, would need to go back to Sudan.
"I'm American, I'm American!" I kept saying. "I just want to go home!" But my plea fell on deaf ears. I was treated like a criminal, a threat to society and an outsider in my own country.
I am immigrant from Iran. I have not been able to see my family since I left Iran. And they have not been able to come see me either. After almost a decade, I am unsure if I'll ever get to see them again.
Deep inside, I have a question [for Trump]. Who do you love? And how long have you ever gone without seeing them?
Recommendations for Capturing Your Own Stories
Here are some best practices for writing or reporting on personal stories of a policy's impact:
Use first-person voices or direct quotations wherever possible. Stories that come straight from the source can be more emotionally impactful because they offer the reader a chance to connect directly with the impacted individual.
Example - Note the powerful first-person narrative in this story for the Clarion Ledger: Trump's 'Muslim ban' effort tore apart my family in Mississippi
Use photos or video of the individual. Without a visual, the story retains some anonymity. A photo lets the reader empathize with the individual. Better yet, use a photo that displays the individual showing emotion so that the reader has a specific feeling to connect to.
Example - Note the picture of the author happily hugging her son in this story from the Washington Post: I had to flee Iran's repression. Trump's order may keep me from my only child.
Emphasize human emotion and connection using a vignette. The strongest pieces describe family ties that anyone, across faiths or nationality, can relate to. Doing this using an illustrative vignette makes the emotion feel relatable and visceral for the reader.
Example - Note the opening of this story from the Guardian: 'A Hellish Nightmare': how Trump's Travel Ban hit a Syrian refugee family
More Voices of the Muslim Ban:
Celebrated Syrian musician left in limbo over US travel ban - The Guardian, Jan. 30 2017
One Year After U.S. Travel Ban, Dying in a Refugee Camp - Voice Of America, Jan. 26 2018
Trapped: Diasporas from Travel Ban-Affected Countries Reflect, One Year Later - Voice of America, Jan. 26 2018
Baraa (pseudonym): 'I was forced to leave my baby with a friend' - The Guardian, May 24 2017
Trump's Muslim ban –– one year old and still discriminatory - The Hill, Jan. 26 2018
Students Still Strained by Travel Ban 1 Year Later - Daily Nexus, Jan. 25 2018
Living With the Muslim Ban: Rouya - ACLU's "Living With the Muslim Ban" Series
Other Muslim Ban Storybanks:
We Will Be Heard: Voices Against the Muslim Ban - Broadly
Living With the Muslim Ban - ACLU
Bona Fide Relationships: stories, essays and poems that speak to Trump's Muslim Ban - Asian American Writers' Workshop