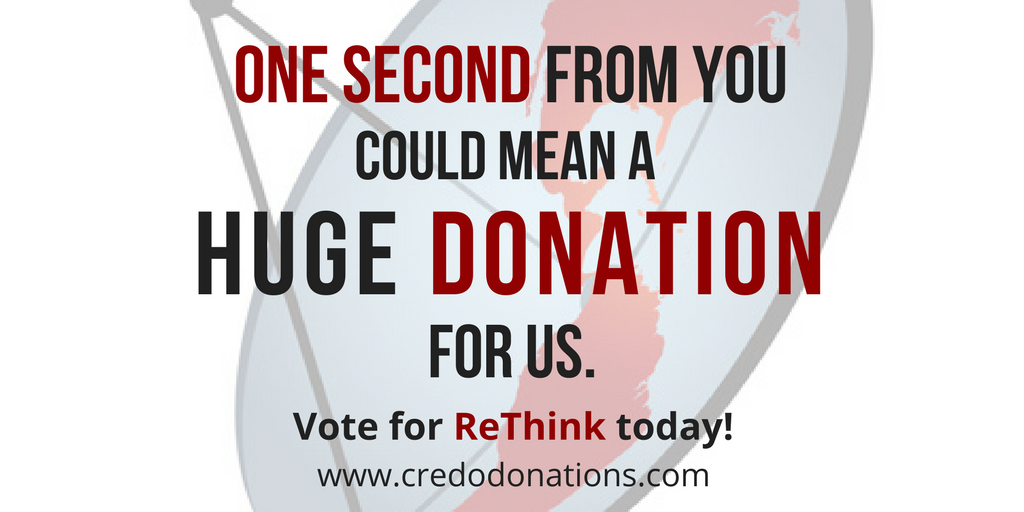 10 Reasons to Support ReThink Media's Work Through CREDO's Monthly Giving Campaign
Everything ReThink does is aimed at strengthening the capacity of movements for progressive social change
ReThink Media is eligible to receive a huge grant this month from CREDO Mobile—but there's a catch. We need YOUR VOTE to secure the funding. It takes only a few seconds to vote. Can we count on your help today?
In case you need more convincing, here are 10 reasons to vote for us.
Dividing Americans against one another on the basis of their faith and exploiting prejudice for political gain should never be accepted as part of our national discourse. ReThink helps combat the anti-Muslim rhetoric permeating our airwaves, our newsfeeds, and unfortunately, our lives. From fighting each iteration of the Muslim Ban to lifting up positive examples from politicians, companies, and people standing up for equality, we have been at the center of work to confront Islamophobia.

ReThink is at the forefront of efforts to limit Trump's ability to launch a nuclear attack and reduce nuclear arsenals worldwide. We are challenging the proposed $1.7 trillion in new taxpayer spending on nuclear weapons. A nuclear conflict could destroy the world in an afternoon. A nuclear terror attack would irrevocably change the nature of our society. From maintaining the nuclear agreement with Iran to avoiding a nuclear war with North Korea, the stakes have never been higher.

We support state and national organizations committed to improving and strengthening our democracy, from getting big money out of politics, advocating for merit-based selection of judges, and expanding access to the voting booths. This has meant working with grassroots organizations in places like Washington, Maine, New Hampshire, Arizona, New Mexico and Florida to strengthen the systems of democratic engagement. Not that we have any reason to be concerned about our democracy these days…

ReThink supports arts organizations of all kinds—whether theater, hip-hop, fiction & poetry, music, or dance—that aim to tell a multi-dimensional story about Islam and Muslim cultures, because building a culture of peace and diversity takes many forms. Our goal is to move beyond the stereotypical and unrepresentative portrayals that often define media coverage and instead advance greater cultural understanding.

We work to reduce the size and waste of the Pentagon, the largest bureaucracy in the world. From pointing out the flaws in the government's F-35 fighter jet, which will cost a trillion dollars in its lifetime and just doesn't work, to calling out the tens of millions of dollars in taxpayer money that government contractors spent on fine dining in Afghanistan, we're making sure that taxpayers know how the government is spending—and wasting—their hard-earned dollars.

We are reframing the campaign finance reform conversation from a debate about process reform to a discussion about equality and democracy that highlights the barriers to participation. Our government should reflect all Americans and not merely the interests, values and social demographics of an elite donor class.

We are working with interfaith communities, small businesses, and elected officials to build out allied communities who can speak out against anti-Muslim policies and attacks. We are stronger when we stand together and weaker when we let fear or bigotry divide us.

The United States's use of lethal drones has killed thousands of civilians, lessened U.S. credibility amongst allies, and allowed democracy to die in darkness. ReThink sheds light on the devastating consequences of using armed drones, and works to hold the U.S. government accountable.

We work to train emerging progressive and policy leaders to be the most effective and visible media spokespeople that they can be. We aim to shift the larger debate by bringing new and persuasive thought leaders into the media.

We are a nonprofit ourselves. Unlike many PR and communications strategy shops, we don't have billable hours or retainers for the organizations we help. We rely on foundation grants to operate, with a small portion of our budget coming from the organizations we work with. Our mission is to make state of the art media and communications resources available to important groups doing important work, irrespective of their ability to pay.
BUT this month, CREDO Mobile is providing us a grant – up to six figures! – which could go towards ANYTHING. This is an INCREDIBLE amount of money for a small nonprofit like ours. All you have to do is click on this link and vote for ReThink. It takes only 10 seconds, but it could make a world of difference in the work we do. Thank you for your help!