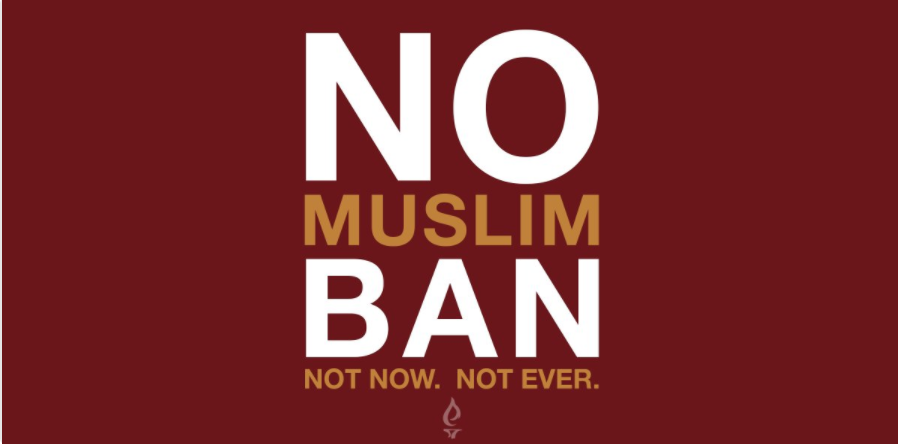 The Top Social Media Posts from the Muslim Ban Anniversary
February 1, 2018 - 10:29am
Civil rights groups and nonprofits took to social media to reflect on progress made and reenergize resistance
This weekend marked the first anniversary of the discriminatory travel ban initiated by the Trump administration. Throughout the day, civil rights and nonprofit groups took to social media to reflect on progress made and reenergize resistance. ReThink Media's analysis of social media revealed several successful trends, tips, and topics for your organization to imitate.
Here are some of the most popular posts of the weekend:
Twitter
The Arab American Institute quoted a sobering statistic about escalating violence against certain minority groups in 2017 and included the most well-performing hashtag, #NoMuslimBanEver:
MPower Change's tweet put the ban in a decades-long historical context (and included a great picture, to boot).
South Asian Immigrants Leading Together (SAALT) employed the same single-hashtag tactic:
The Center for Victims of Torture (CVT) used a powerful illustration and compelling text to make the case to welcome refugees and fight the ban.
Note the ACLU's repetition of the theme No Muslim Ban Ever with text, image, and single hashtag, making for a clean, compelling post:
Facebook
Though mentions of the Muslim Ban were not as prolific on Facebook, organizations still marked the event with provocative posts.
Human Rights First had the most over-performing Facebook post, strongly making the case that they are here to fight the ban and aren't going anywhere.
Here's an example of the usage of vivid imagery from the Center for Constitutional Rights:
MPower Change and MoveOn.org partnered on a video telling the story of a year of resisting each iteration of the Muslim Ban.
Muslim Advocates' post illustrates the strength of the words "Muslim Ban." The message gained attention without the use of hashtags:
*We used CrowdTangle for this analysis. Learn more about that free tool here.*
What did these posts have in common?
They used powerful language, strongly calling the policy a "Muslim Ban," rather than the more watered-down "Travel Ban."
They drew upon human emotion, highlighting what it felt like a year after the Muslim Ban was announced.
They utilized strong visuals, from protest photos to commissioned artwork, that helped capture the audiences' eye and communicate a message of solidarity.