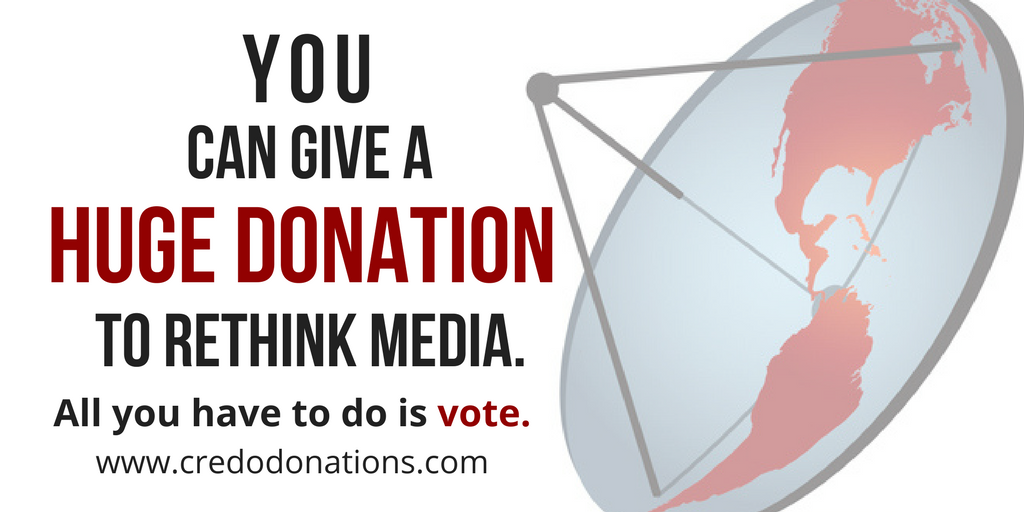 Your (quick) VOTE Could Add $100K to ReThink Media's Resistance Fund
December 1, 2017 - 7:36am
Our partners and friends at CREDO Mobile have nominated ReThink Media to their December month of giving campaign. It's a tremendous honor. And it won't cost you a penny, but there's a catch—
the amount we receive in donations depends on YOUR VOTE in support of our work!
We don't need to tell you that it has been quite a year. We have been in the fight together every step of the way to push off not one, not two, but THREE iterations of Trump's Muslim Ban, to discredit the sham Pence-Kobach election commission, and to prevent President Trump's *tiny* finger from hitting that red button and launching a nuclear war—just to name a few. But our work together isn't over yet.
If you follow the ReThink Blog or are one of the 100 plus advocacy groups we work to support, you know our mission—to bring cutting-edge media and communications skills and strategies to the forefront of fights for peace and social justice, the protection of human and civil rights, and in protecting voting rights and strengthening our democracy. You've come to rely on our media skills training and tips on everything from broadcast interviews to digital ads. Together, we have launched cutting-edge campaigns that have taken over the news cycle. And you have joined us in sharing our top learnings about high-performing content, rapid response engagement, and free tools that help you do your work better.