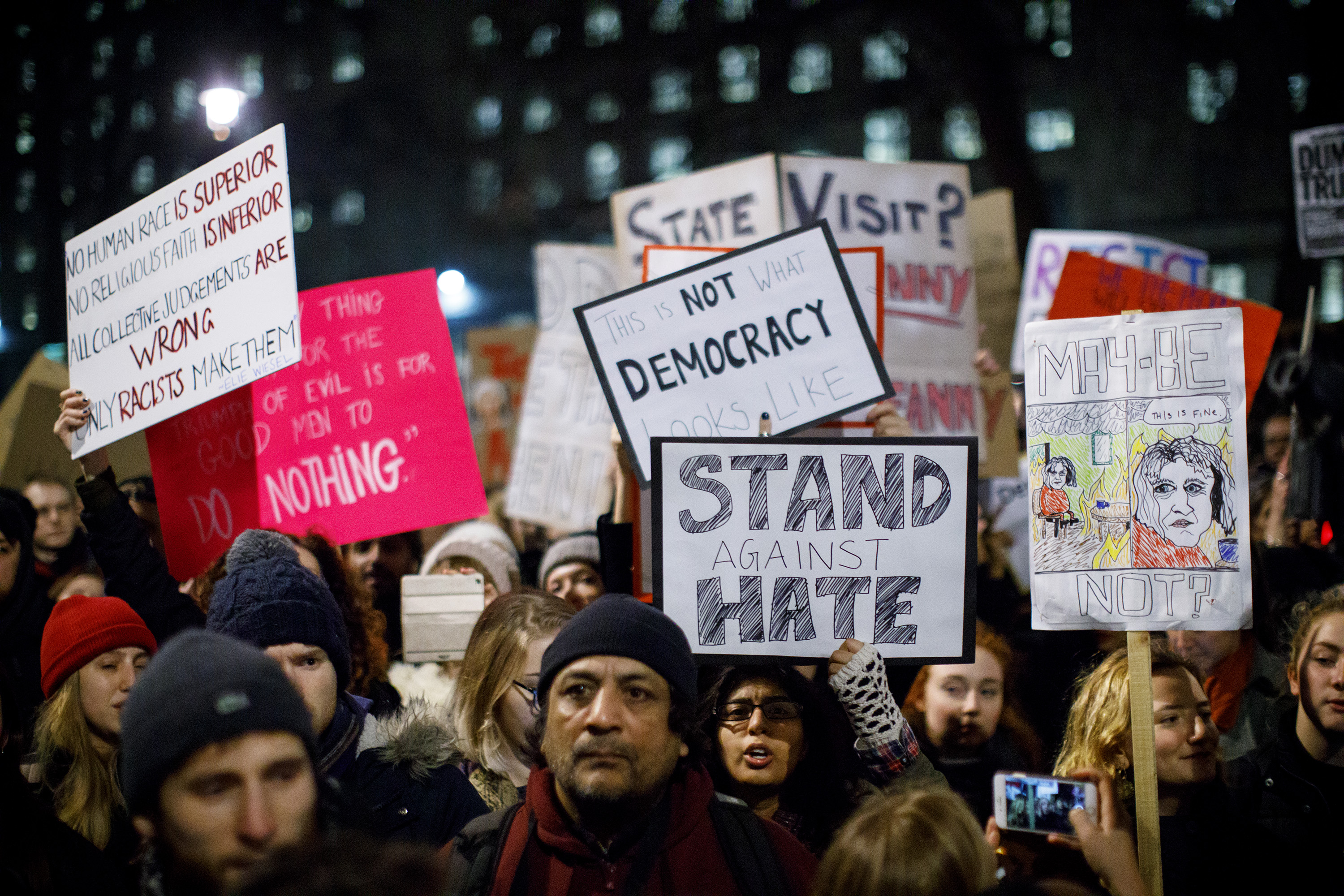 Nine Ways to Amplify a Local Vigil or Protest
If a protest happens in a forest, and there's no coverage, did it really happen?
1. Invite local broadcast to the event… but also to any relevant events as you prepare.
Local broadcast outlets are almost always interested in events and protests that involve engaging visuals and dynamic speakers. However, you may find that coverage of your event is split 50/50 – comparing your event to speakers or events from the opposition.
Instead, consider inviting the media to a "sign-making" or "planning" event the night before a rally, or to a community discussion, where reporters will have easier access to coalition members one on one and where you will be much more likely to successfully frame the message. Broadcast outlets will be better equipped to cover your protest or event as one driven by passionate individuals taking time from their daily lives for this important cause by personalizing the participants in advance. Audiences, meanwhile, will be exposed to a much more human, and therefore relatable, story. Other alternative events can also allow you to define your community on your own terms and not through the frame of your opponents' prejudicial event.
2. Pitch local print news outlets with specific speakers from the protest, rally, or vigil and make them available before the event.
It's often difficult for reporters to personally attend rallies or vigils. And it is equally difficult for organizers to control the message when an event might take an unexpected turn. Instead, consider connecting reporters to top speakers ahead of the event for one-on-one interviews on why the event is important and why citizens in your area must address these issues. This will also help prevent "chicken suit syndrome" which is to say that reporters will often interview whoever is most odd or different at a protest, including anyone wearing a chicken suit, and that person is often off-message or not representative of the larger group. By connecting reporters to top speakers ahead of the event, you are significantly more likely to prevent fringe voices from taking over the narrative. This is equally true of messages and signage. Plan in advance to have as much of a concerted theme to your signage as possible so that a single photo of a problematic placard cannot derail your intended message.
3. Consider a "ride along"
The media loves "human interest" stories. Inviting a reporter from radio or our local newspaper to accompany one of your activists from the preparations through to the event itself will allow them to tell a very human story. As they learn more about their "host" they will likely tell a more accessible story. Most people see "activists" as different from themselves. The story of why an individual becomes active breaks down this barrier. Inviting them to join a family that is taking action can be even more effective because people connect around issues of family across the boundaries of culture, race, religion, and ethnicity.
4. Consider live-streaming your event on Twitter, Facebook, or another platform.
Learn more about
how to effectively live-stream an event here
. Ensure that the crowd is large before live-streaming! If they are not, make sure you are selective in what you film and share. A close-in shot of the people in attendance can make it look more populous than it is.
5. Use a fresh hashtag for the local event – new hashtags are more likely to trend on Twitter.
If your event is a local version of a national set of protests, either use their hashtag or a very similar hashtag catered to your geographic area. For example, if the national hashtag is #CounterACTHate and you are organizing a San Francisco-based protest, #CounterACTHate will help the national effort to bring attention to this issue, and #CounterACTHateSF will help with logistics for those working to attend your rally.
6. Develop content ahead of time, including protest or vigil signs.
Share easy-to-download vigil or protest signs with attendees so that individuals aren't forced to develop messaging themselves if they aren't prepared to. This will also help prevent as many off-message or problematic signs from being featured in the news as noted above. A compelling or impactful image can also be even more effective than simple words. If you have creative folks involved in your group, try challenging them to develop a powerful image.
Alternatively, provide blank protest signs with your organization's logo at the top to ensure your organization's brand is included in coverage of the protest. Be warned, however, that any off-message or problematic statements written by attendees will have your organization's logo unintentionally endorsing it!
For your own organization, consider printing blank placards with your organization's logo to also scramble to respond to breaking news and/or rapid response protests. See an example from People For the American Way.
7. Consider placing a line of organizers behind any speakers to show visual solidarity.
Take a best practice tip from candidates on the campaign trail. Photo or video coverage of speakers might not show how many attendees were really at your local vigil or protest. A line of participants behind the speaker will indicate that the speaker was in good company. The more representative, intersectional, and cross sectoral the people that stand behind the speaker, the better. For example, at the recent rally in Boston to oppose white supremacy, leadership from every religious faith was visibly represented as were other leading community figures including the Mayor and Chief of Police. These images establish that your position represents the cultural "norm" and that your opponents are outside the norm.
8. Host a Letter to the Editor (LTE) writing party after the vigil or protest to get additional coverage of your issue.
Another good opportunity for coverage: invite a dozen top organizers to one location, and ask each person to write 150-200 words about why they care about this issue. (For more information about how to write an excellent LTE, ask ReThink Media.) At the end of that hour, each person passes their letter to the person to their right for edits, and then each person emails that LTE to the same outlet. Outlets often decide whether to editorialize on an issue based on how many LTEs they receive, and they are more likely to run a series of LTEs about an issue if they receive several from various perspectives.
9. Take the pictures you want to see
Many news outlets are short-staffed. Immediately following an event, send the photos you'd like to see to your news outlets' photo editor with a very brief note providing context and assuring them that a formal credit is not required.