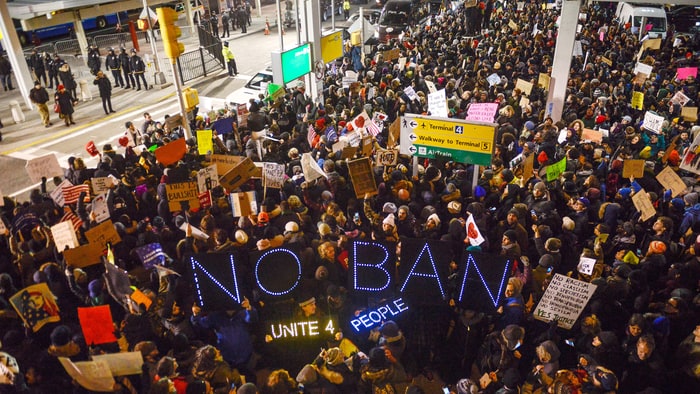 We the People Are United Against the Muslim Ban
January 30, 2017 - 7:36am
The grassroots strike back forcefully against Trump's discriminatory policies
A week into office, and President Trump has already felt the wrath of We the People who are offended by and deeply concerned about his administration's policies.
When he issued an executive order that limits immigration from seven Muslim-majority countries for 90 days, bars Syrian refugees from entering the United States indefinitely, and suspends all refugee admissions for 120 days, We the People wouldn't stand for it.
The grassroots responded immediately – and forcefully – letting the President know that such policies contravene the principles on which our country was founded. At airports and in the streets across the country, thousands protested the discriminatory policies. And the response struck a chord online, as well.
Here are some of the top Facebook posts fighting back.
(We used the tool CrowdTangle to pull these. Learn what it does and how you can use it for free.)
What do these posts have in common?
They are all timely: The organizations shared these posts as the news was happening around them. None waited until they were back in the office on Monday morning. They capitalized on the momentum gathering in real-time to tap into a captive audience.
They all take a position: None are simply restating a headline or reporting the news about the executive order. That makes them more compelling to share.
Almost all of them include a visual element: With the exception of one post, these top Facebook posts include photos from protests, videos from lawyers, graphics created sharing resources, or include an organizational logo to help capture people's attention online.
Many are aspirational: Rather than re-stating the negative angle of the discriminatory policies, many of these posts are framed in our strength, looking forward: Not today. We won't back down. We all stand together.
Were you in the streets or online protesting this weekend? What were your favorite responses to the executive order? Tweet to us @rethink_media and let us know!
Wondering What You Can Do About the "Muslim Ban"?
We are getting that question a lot. We pulled together some resources about things you can actively do to fight this. Check it out. Take action. Resist.