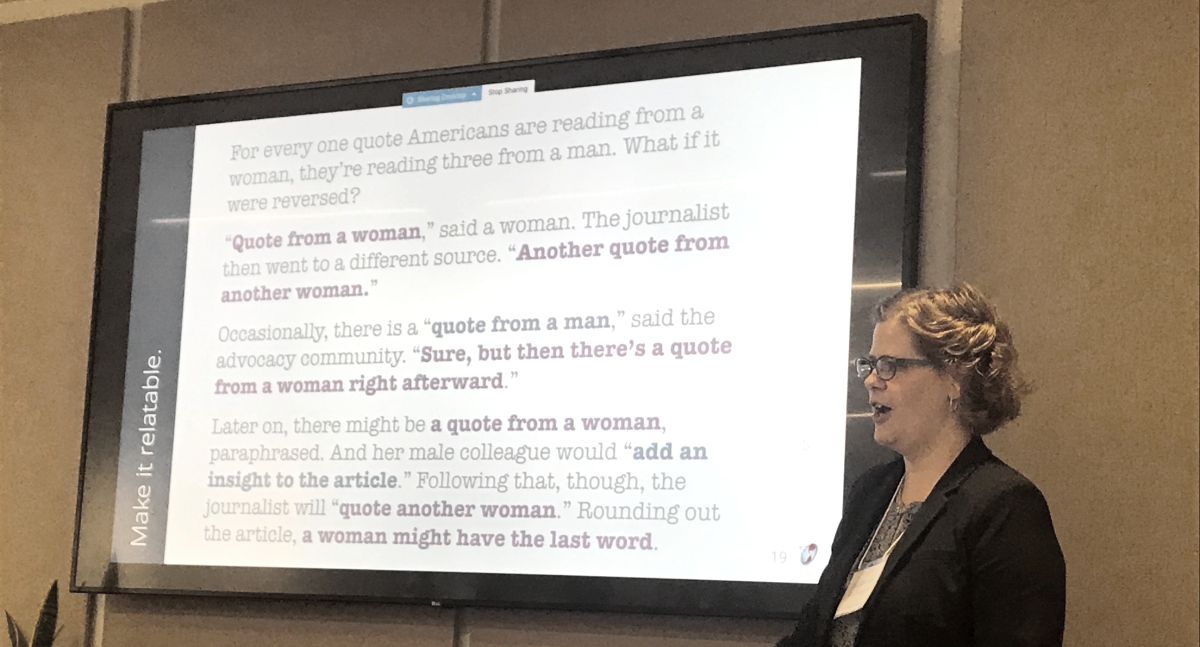 Who Gets Heard Matters: We Are a Long Way from Gender Equity in Who the Media Quotes. Let's Fix That.
The disparity in representation has critical implications for our efforts to reach new audiences and build a powerful and lasting constituency for change
With this month marking 100 years since the ratification of the 19th Amendment, which prevents an individual from being denied the right to vote on the basis of sex in the U.S., and with an eye towards Women's Equality Day on August 26 (don't get me started on it being just for one day), the next several posts on our ReThink Blog will interrogate the vast gender disparity in how the issues we work on play out in the media landscape.
How is it, in 2020, that we are still seeing "marticles"—articles chock-full of quotations sourcing only men?! And according to the Women's Media Center's most recent report on the Status of Women in the U.S Media, "despite some gains, men still dominate every part of the news, entertainment, and digital media."
This continued disparity in representation for gender, racial, and ethnic diversity has critical implications for our efforts to reach new audiences and build a powerful and lasting constituency for change. In the coming weeks, we will feature several proven strategies toward achieving greater gender equity and representation. These will equip you and your organization with the tools to:
● Speak data to power: Face the facts and hold yourself, your organization, and the media accountable to the data and greater gender representation;
● Promote and train women spokespeople: ReThink has trained more than 135 women spokespeople in the last two years. Learn from them what works and what doesn't;
● Identify and name gender traps in communications, and employ proven strategies for you and your organization to escape them—and avoid setting them in the first place.
Speak Data to Power: What the Data Tells Us
The first step in addressing the gender disparity is to bring objective data to the table. Without a clear-eyed view of the landscape, it is much harder to develop a plan to achieve parity.
In all of the issue ReThink works on, one of the first things we look at is what we call "voice share"—a quotation-by-quotation rundown on who is heard in the media and, by extension, the public. Across each of our issues, except for one, our data shows that men are quoted significantly more than women.
Looking at the last four years of coverage under the Trump Administration:
Journalists covering the arms control and disarmament community sourced men over women by a margin of 80% to 20%.
Journalists covering issues related to the civil rights of Muslim, Arab, Sikh, and South Asian communities quoted men 67% of the time, compared to women at 33%.
In coverage of money in politics and advancing fair and impartial courts, journalists sourced male advocates 73% of the time and women 27%.
The most significant exception to this lack of gender equity in coverage is in our work on voting rights issues, wherein journalists have quoted more women than men by a margin of 51–49%. See? It can be done!
Promote and Train Women Spokespeople
An essential step to advancing gender equity in who the media quotes in coverage, is ensuring that you have women experts at the ready. At ReThink, we do this by working with groups across each of our issue sectors to recruit, train, and position women experts as spokespeople and go-to sources for journalists. Here's how:
Identify both senior and up-and-coming female-identifying and non-binary experts and spokespeople to pitch;
Help them build better online profiles and position themselves as experts;
Train them in critical skills, like writing op-eds and letters to the editor, crafting "sticky" sound bites, and delivering better broadcast interviews;
Prep them for those interviews; and
Help edit, pitch, and place content for them.
We need to "walk the walk" ourselves and ensure gender equity within our organization's pool of experts and across our movements and give them the skills and support to become spokespeople reporters will want to come back to again and again.
Get your organization to take the 50|50 challenge. Take the steps above to ensure the gender equity of your pool of trained spokespeople.
Here's How It Works
Does this seem daunting, given your organization's current pool of trained spokespeople? Are you feeling like the disparities in coverage are too big to shift?
Here are three of the initiatives our team at ReThink is involved in that might inspire a similar effort in your work.
In partnership with Women of Color Advancing Peace and Security (WCAPS) and others, we have trained a new cadre of women, women of color, and young people in media skills, from writing op-eds to nailing broadcast interviews, to enable them to shape a new era of American foreign policy.
Through the support of the MacArthur Foundation, we have trained cohorts of up-and-coming female experts and spokespeople advancing peace and security through academia and grassroots engagement.
In our Rights and Inclusion work, we have trained 135 Muslim, Arab, Sikh, and South Asian women spokespeople. We have helped push campaigns, such as #CanYouHearUsNow, that directly challenge the stereotypes Muslim women face in society and the media.
In our work with voting rights groups across the country, we took our signature spokesperson training on the road (now through Zoom), hosting spokesperson trainings for local and state community leaders and predominantly women- and people of color-led organizations to drive pro-voter policies.
For Results, Invest in a Deliberate and Sustained Effort
Many of the initiatives above are multi-year efforts. Through deliberate and sustained investments, we expect to see a real transformation in who is being quoted in the news. And it is through explicitly setting a baseline for where we are starting with each of these efforts that we can measure our progress. Where strategies work, we want to double down. Where we see that they aren't working, we want to regroup.
We are pleased to share that several of the people we have trained as up-and-coming spokespeople who did not appear in our media analysis charts just a few years ago are now measurably more quoted in their areas of expertise. Furthermore, whereas an earlier lineup of cited spokespeople may have numbered in the single digits, we now see a much deeper and more diverse bench of sources, often leading to an overall increase in coverage.
For instance, in 2012, Naureen Shah, an expert in international human rights, went through one of our first spokesperson trainings. We then continued to work together to draft opinion pieces, pitched her in our experts' available list to relevant reporters, and helped prep her for interviews. Naureen's annual media presence roughly quadrupled from 2012 to 2016.
Just last month, a training participant wrote to us to say:
"Because of the training that you provided... and the continued support and guidance Firdaus has given me—including on late nights and weekends for time-sensitive deadlines—I have been blessed with the following opportunities:
1) Publishing a featured piece for Foreign Policy magazine
2) Publishing a letter to the editor in The New York Times
3) Publishing an op-ed in The Hill
4) Being interviewed for an article on Slate
5) Landing my first ever TV news interview (live at that!) on BBC World News
6) Appearing in multiple public service announcement commercials for the city of Houston
7) Getting followed on Twitter by journalists/editors like Aysha Khan, Sarah Pulliam Bailey, Aymann Ismail, Josh Keating, [and] Sarah Wilder"
Slaying the Impost-Her Syndrome
As you will read in one of our upcoming posts—"Gendered Communications Traps and How to Avoid Them"—one of the most significant obstacles we hear from women to becoming confident spokespersons is imposter syndrome.
This is defined as a psychological pattern in which individuals doubt their accomplishments or talents and have a persistent internalized fear of being exposed as a "fraud." To counter this feeling, it is critical to tap into each spokesperson's unique in-depth knowledge and expertise and directly tackle the debilitating power of impost-her syndrome.
This syndrome is often reinforced day-in and day-out through not being listened to during meetings, having their contributions to research subsumed by a senior researcher's authorship, or feeling that they have to know more than any of their male counterparts to even to begin to speak up publicly.
We hear this again and again in the feedback we get from the incredible women we get to work with. The secret sauce is individual training tailored to their work, continued hands-on support, and giving participants the rare chance to be a part of a larger cohort of women facing similar challenges and having one another's back.
Don't Take Our Word for It
But don't take our word for it. Below are just a few of our favorite testimonials.
"People who say there aren't security experts who are women of color aren't looking hard enough. Thanks to @wcapsnet and @rethink_media for supporting our voices in this space and giving us the tricks of the media trade. Personally, I've always found Twitter hard, but after two days of media training with ReThink Media, I am convinced of its value in spreading my ideas about nuclear security. Thanks for walking us through how to leverage media to support our work, and having an honest conversation about the challenges [that] women of color face as experts in security fields. Trust and believe, we are coming for our spots."
"I really appreciated the ReThink training that I attended. There are a lot of specific take-aways that I still want to work on, but overall experiences like that have really helped me feel like I can and should make my voice heard more. It definitely helped convince me that I should write and share this piece, despite a lot of doubts and imposter syndrome-ing. This can be a very intimidating field, but it's so helpful to know that there are other women and groups like ReThink in my corner!"
"I've attended a few media trainings, and this one was more helpful than most because it was tailored to the audience, both by bringing our public personas into the content and because it was tailored specifically to our challenges as women of color. I appreciated the recognition and embracing of individuality even as you provided best practices. Additionally, the ability to ask questions and share our experiences really enriched the experience."
"For so long, I have felt unheard, unvalidated, undervalued. I am so grateful, as a woman of color and religious minority, to finally have the training and chance to amplify my voice despite its continued co-optation by white men and men of color for decades."
And here's a video where you can hear directly from participants of our signature spokesperson trainings.
What's Next: A Sliver of a Silver Lining Through this Pandemic
Despite all of the good work-to-date, and the incredible work of the spokespeople we have had the privilege to work with, the numbers don't lie (Speak Data to Power). We still have a long way to go to get to 50-50 gender parity and an even longer way to go to get to parity in coverage of spokespersons of color. Our track record proves that we can get there, but it will take:
Investments in a deliberate and sustained effort;
Institutional commitments and accountability for reaching gender parity amongst our leadership and spokespeople;
Ongoing investment in media and spokesperson training and support; and
Holding journalists and outlets to a standard of gender parity in their reporting.
In the months ahead, we will focus on developing more spokespeople and experts on the local, state, and community level, not just on the national level. Perhaps that's been a sliver of a silver lining through this pandemic; we've been able to connect remotely to provide training to spokespeople and experts in harder-to-reach places and provide them ongoing training and support.
We're exploring ways to provide these spokespeople broadcast kits that include cameras, lighting, and microphones. We will also offer them training on how to conduct high-quality, studio-like TV interviews while we are all physically distant. This enables more people to do actual broadcast interviews from their homes. It also provides them instantly, professional-looking B-Roll footage to share with other producers and bookers.
And over the coming weeks, we will be publishing more blog posts focused on building up the media skills of women in our communities, all with an eye on achieving gender parity in who gets quoted on our issues. Subscribe to our Blog today or check back for more content.
In the meantime, are you looking to develop your media skills? Check out our revamped training page and reach out with any requests.