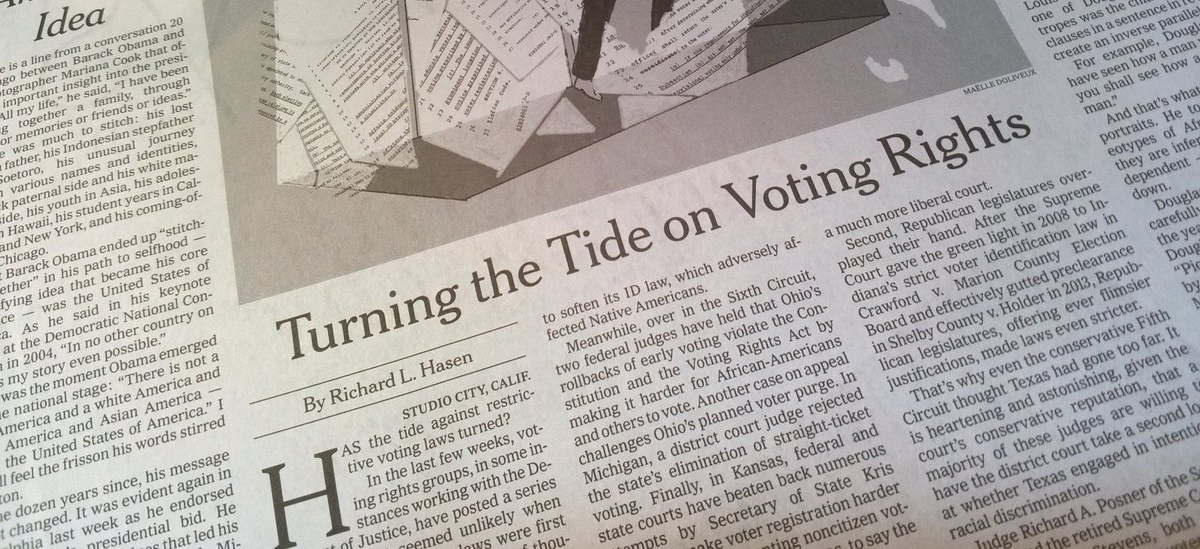 Tips for Writing Op-eds to Respond to Breaking News
Quickly placing well-targeted op-eds from the right messengers can be critical for both framing the debate and extending the news cycle
The U.S. Supreme Court just struck down contribution limits as unconstitutional. The Senate just scheduled a hearing on legislation to create a Muslim registry. Newly leaked documents show a pattern of covering up systemic drug use at nuclear weapons facilities.
Quick. What now?
It isn't every day that breaking news turns the national spotlight on your issue. When it does happen, quickly placing well-targeted op-eds from the right messengers can be critical for both framing the debate and extending the news cycle.
These are the keys to successfully writing and placing an op-ed responding to breaking news:
Act fast. Usually this means submitting your piece the same day or at least within 24 hours of the breaking news. If you want to impact the news cycle, you must be willing to drop other work and immediately devote yourself to developing content. When big news breaks, editors immediately start assigning columns to in-house writers and soliciting outside commentary from prominent voices and experts in the field. Even in the Internet age, space fills up quickly. Unless the news continues to develop over several days or weeks, an outlet is unlikely to publish more than a few columns on the topic. Don't let others beat you to the punch.

Reach out to editorial contacts you may have. If you haven't finished the piece, try reaching out to an editor with your lede. Tell them when you can get them completed copy. Make sure you keep that commitment. In some cases, the editor may provide feedback to improve your lede and increase your chances of publication.

Prepare beforehand. "But it's breaking news. How can I prepare for something I didn't even know about?" You can't predict all of the details of a breaking news story, but you can have some evergreen language about your issue ready to plug in to any op-ed. Next time you have 30 minutes before your next meeting, spend it putting 300 words on paper for your next op-ed. Now all you need to do is brainstorm a lede and fill-in details from the breaking story.

In other instances, such as Supreme Court decisions, we know breaking news is coming, we just don't the exact headline or exactly when it will drop. Again, templates are your best friends. Draft a version for each potential outcome. A few quick edits are now all that stands in the way of finalizing your piece when the news finally does break.

For example, when two candidates for North Carolina's Court of Appeals endorsed public financing of judicial elections in the heat of a campaign against each other, Melissa Price Kromm from North Carolina Voters for Clean Elections was ready with this piece. Much of the content could fit into any piece about public financing. Preparing the meat of the op-ed beforehand greatly lightens the lift when the inevitable news hook falls in your lap, and greatly increases your chances of publication.


Follow ReThink Media's eleven best practices for pitching your op-ed. Writing the op-ed is only half the battle. Equally important is effective pitching so your op-ed doesn't just remain a Word document on your computer's desktop. And in a fast-moving breaking news environment it is even more important.

(Tl;dr: Pick the right outlet. Determine the best point of contact. Craft a compelling pitch. Brainstorm a catchy subject line. Submit in the body of email. Ask for a hard deadline. Track email opens. Follow up. Move on and try again.)

Share your published op-ed. Here are a few suggested steps you can take to promote your recent piece to reach a broader audience.
We've reviewed the key steps for successfully responding to breaking news with an op-ed, but there are also some best practices to keep in mind regardless of the type of op-ed you're writing.
Op-Ed Best Practices
Make it personal. Tell a story. Invoke an experience. Make it readable and relevant. Audiences respond to accessible content and editors look for that.

Make it local. With the exception of a small number of national outlets, there has to be a local tie-in. What is the relevance of the local Representative or the state's Senators? How will the decision make an impact on the community? What is the community history with the issue?

Choose the right author. A relevant local signer is key with most regional and local newspapers. With national outlets, the prestige and credibility of the author can make all the difference. No more than two authors.

Choose the right messenger. On any given topic, some messengers have more persuasive credibility with the target audience than others. Who does your target audience listen to? Who do they respect? And who do they ignore?

Argue a strong point—powerfully. An op-ed argues a point of view, it does not weigh all sides of an issue. As a general rule, make one strong point and back it up with 3–4 supporting arguments.

Avoid jargon. Use accessible language. Wherever possible use metaphors, analogies, and stories to connect to your audience and make your point more persuasive.

Always respect the word limit. Editors don't have the time to cut your piece down to size. If it's too long, it will very likely be rejected immediately. Typically, 700 words will do, but always check the paper's op-ed page to find out their preference. Your odds will be better if your piece is even shorter.

Start strong, finish strong. Open with a strong, tight, clear paragraph. If the reader only reads two paragraphs, they should get your essential point. The middle paragraphs exist to reinforce your point. The final paragraph should close the deal and leave the reader feeling like it's only sensible to agree with you.

Name names. Policies don't just happen—people make decisions. In political communications, the aim is to declare who is responsible and why they should do the right thing. This does not need to be adversarial, but it cannot be vague or understated. Plus, particularly in well-targeted local outlets, the people responsible can feel the heat if their neighbors (and/or constituents!) weigh in.
What else has worked well for you in writing op-eds to respond to breaking news? Tweet to us @rethink_media and let us know!