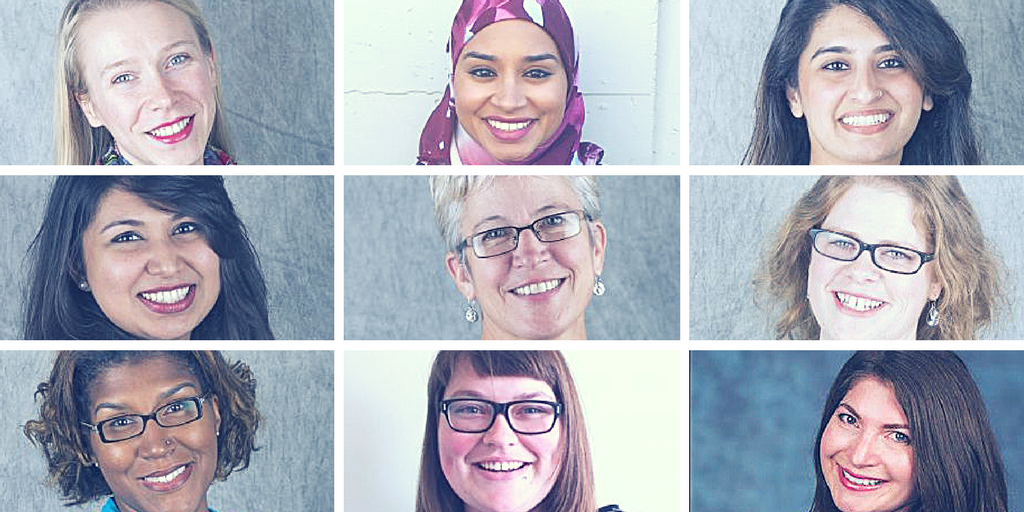 #InternationalWomensDay: Spotlighting the Women of ReThink Media
On the Day Without Women, ReThink Media would like to take a moment to honor the critical leadership of women throughout our organization, where in fact, women constitute the majority
ReThink Media stands in solidarity with our community members striking during #ADayWithoutAWoman (and with women everywhere, every day!).
On the Day Without Women, ReThink Media would like to take a moment to honor the critical leadership of women throughout our organization, where in fact, women constitute the majority.
To begin, there would never have been a ReThink without Lynn Fahselt, Director and Co-Founder. To describe Lynn as dogged and determined would redefine understatement for both words. While she prefers to manage through her team rather than listservs, no one who has ever really engaged with ReThink's strategic thinking comes away anything but impressed. Lynn has more good ideas than the rest of us know what to do with and she is the engine of continuous evolution.
We are also proud that two of our Managing Directors are women.
Ashley Houghton
, the Managing Director for Security and Rights, is our longest-serving colleague and there is no one you'd rather want on your side in a crisis. Ashley's strategic insights into the media are awe-inspiring, her news sense is unparalleled, and her training skills are amazing. Inside our organization, she also brings the levity and quirkiness that makes all of our work better.
Ginna Green
, the Managing Director for Money in Politics and Fair Courts, is a visionary. She knows her media game inside and out, and she thrives when she's in full-campaign mode, but her work is continuously guided by thinking three steps ahead and driving a commitment to a more inclusive and genuinely representative democracy that raises up the voices of all Americans.
Our Digital Director,
Dorry Levine
, is a whirlwind. She manages to raise the analytical and campaign work of all three of our teams, while keeping the entire staff (and much of the community) abreast of the fast-moving universe of using social media for social change, and somehow still found time to launch our blog last year.
Eva Galanes-Rosenbaum
, our Media and Public Opinion Analyst, brings careful professionalism to assessing every poll that crosses our radar and identifies media trends across all of our work. Eva is always ready to bring the facts, and not just the opinions, to our work, and in the end, this makes all of it better. An avowed data visualization geek, Eva doesn't just want to know the data, she wants to pioneer ways of making people think about it.
The Senior Associate on the Security and Rights team,
Zainab Chaudary
, is a social media wizard, not least because she is a font of fantastic creativity more generally. Her dedication to her work and to the people and organizations we serve is beyond description, and she brings it every day with an implicit reminder of the humanity that gives it meaning.
Deepika Choudhary
on our Peace & Security team knows more about smart and cagey media engagement than most people learn in a lifetime. She continuously surprises us all with a new tactic she has piloted or a new system she has engineered. More than that, Dee is a leader among her peers, launching efforts to raise up the role of women in security and being a champion for more diverse and inclusive workplaces.
Cooking up amazing digital content and social media strategies for our Money in Politics and Fair Courts work,
Grace Harvey
is a total win for our team. She is at once extraordinarily creative and extraordinarily talented, and all with an easy going cool. Grace brought us insights from the business world, but she uses them all to drive our work for a more just and inclusive society.
Firdaus Arastu
leads our work to combat anti-Muslim prejudice through the power of art and culture. Working to raise up the work of arts projects around the country, Firdaus manages an amazingly complex portfolio. She blends a wonderful mix of deep intellectual insight and discussion with brass tacks realities, but always with a solid dose of humor and wry insight.
One last thing...if you're a real geek, you may have noticed that whenever you log onto
ReThink's "Team" page
, the hierarchy and the order in which people are profiled changes. That's our small way of saying how much we value everyone who works at ReThink, regardless of where they fall in our organizational structure.