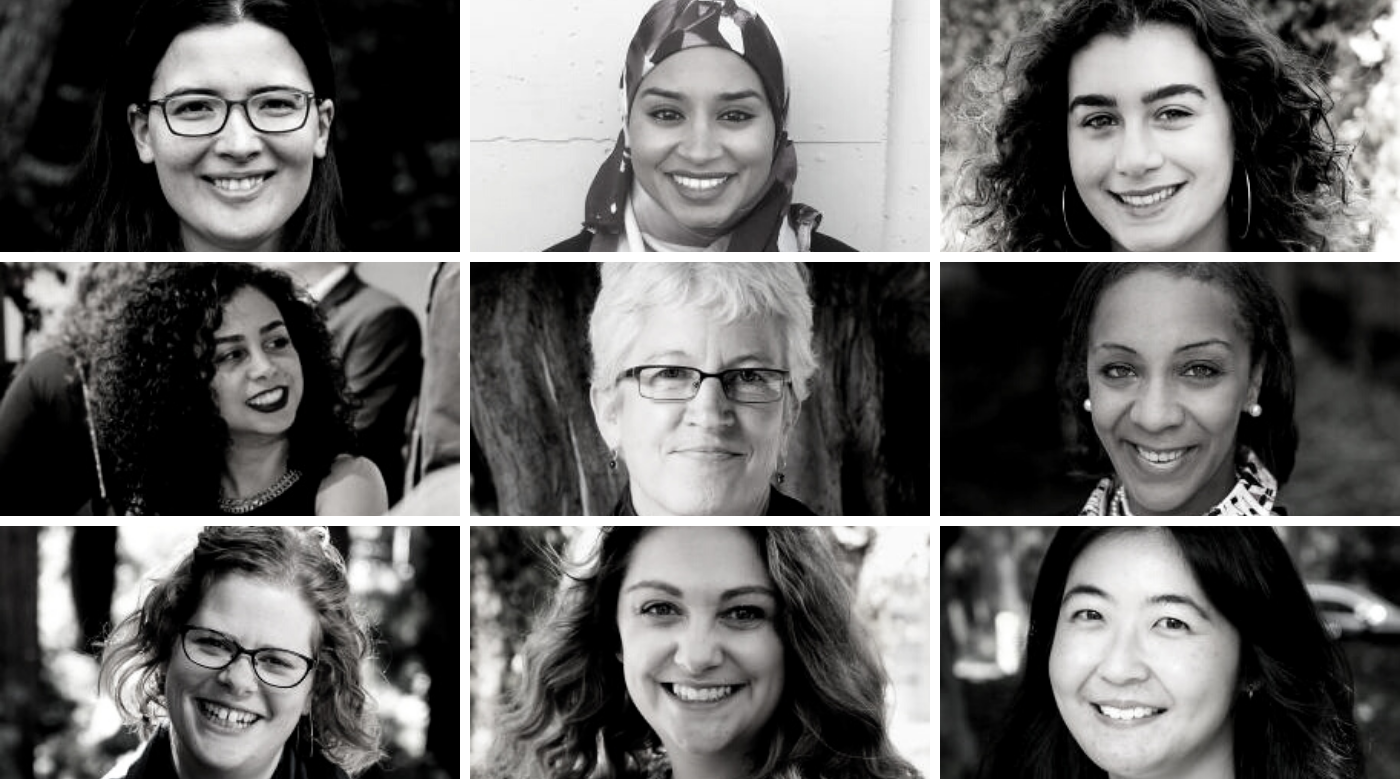 Meet the ReThink Women Centering Women's Stories
Representation matters, and ReThink strives to elevate and amplify the voices of women amongst its staff and across our movement
Leading our work to center and amplify women's voices in the media and across the movement are our Program Directors, who identify opportunities, provide guidance and strategy, and serve as a sounding board for the experts and spokespeople in our communities.
And for the first time in ReThink's history, all of our Program Directors are women.
From politics to advocacy to academia, these women bring a multitude of experiences to their work that help ReThink and its partners advance our issues.
But they aren't alone. ReThink is proud of its majority-female staff, who train experts and spokespeople; provide messaging recommendations; edit, pitch, and place content; analyze the media landscape; monitor public opinion; and manage our organization's operations.
Meet the women making it happen.
Adrienne Varkiani, Program Director, Rights & Inclusion
Adrienne Varkiani, who started at ReThink in May, was previously a senior editor at ThinkProgress. She was also an editor at Muftah Magazine and worked for the Public Affairs Alliance of Iranian Americans—putting her squarely in the journalism and advocacy worlds in which our work lives. She has a master's degree in international relations from the London School of Economics and Political Science and a bachelor's degree in international studies from American University.
"Women and gender minorities are so often left out of our stories, our leadership, our media, that when we are finally included, everyone is somehow impressed. It's wild that that's where we're at in 2020. By including everyone in the way we look at a story, or a problem we're facing, we're ensuring that everyone is also a part of the solution. There's absolutely no way we can make progress without everyone at the table."
Emily Blout, Program Director, Peace & Security
Our newest hire is Emily Blout, the Program Director for our Peace & Security work, who started just last week. A former Legislative Director at the National Iranian American Council (NIAC) and Press Secretary on Capitol Hill, Emily is also an expert on the media and a professor at American University and University of Virginia (not to mention wrapping up a book on Iranian media). She was co-founder of Foreign Policy Professionals for Obama.
"In these exceptional times, we need exceptional leadership, and that means getting more women into leadership positions and amplifying their voices and contributions to the national debate," she said. "America faces enormous global challenges and there are no easy answers. But one thing is clear—endless war and skeletal diplomacy is not working. I am excited to join ReThink Media and our NGO partners in the critical work of challenging the status quo and forging a path to a more prosperous and peaceful future."
Joi Ridley, Program Director, Democracy
Joi Ridley, who joined ReThink in March, mastered her communications outreach abilities through work on the communications teams of the National Bar Association, the United Negro College Fund, the NAACP, Grantmakers for Effective Organizations, and as an advisor to the National Newspaper Publishers of America. On the political side, she also worked for Obama '08 and earlier in her career served in the office of Rep. Bobby Rush. Her prior opportunities have offered a birds-eye view of both policy and citizens directly impacted by legislators' decisions. She used these insights to fine-tune messages, looking to meet audiences where they are, avoiding unapproachable, regulation-ridden language.
"It seems that American women have been asked to tiptoe our way toward having a seat at the democratic table. In the past century, our access to true democracy has come in stages: 'Men vote first and, ladies, your husband will represent your interests,' then 'Women can vote—but which women?' followed by 'Fine! Civil rights allow for Black women to vote, but not other marginalized groups.' It seems we've constantly been moving, but we're usually leaving a segment of the larger women populace behind.
"But, without question times have changed. We've advanced from allowing a woman to vote to now considering which woman we want to vote for! We no longer want just a seat, we're building the table, sitting in the head chair and leading the conversation! Imagine the quandary of having a woman, from racial and gender roots that have typically been disenfranchised, now in a position to (possibly) sit at this nation's helm. It's a time for personal and national reflection on our commitment to upholding the values our Pledge of Allegiance holds dear—'liberty and justice for ALL!' If that pledge is indeed true, the voice of a woman is no longer an option, it's a mandate!"
Lynn Fahselt, Co-Founder and Executive Director
Lynn is a specialist in media analysis, organizational development, strategic planning, and message development. With 25 years of experience in communications, she completed the original research that led to the launch of ReThink. Looking to learn from others, she assessed all prior collaborative communications models and designed ReThink as a hybrid, combining the best of each.
Lynn has conducted extensive media and messaging analysis on a wide range of issues including foreign policy, human and civil rights, and democracy and voting rights. She was also part of an international research team conducting groundbreaking research in a five-country study of globalization themes in television news coverage.
"Our mission is building movements and narrative power. To build a broad-based constituency for change, we have to be relevant to the audiences we are trying to reach. And to remain relevant to future generations, our organizations have to evolve, innovate, and bring the best and most diverse thinking to the fights ahead.
"One of the first principles in strategic communications is that the messenger matters. Until we change the media 'voice share' and advance gender, racial, and ethnic diversity in who they quote, we won't reach the people we need to reach. Until we change our own institutions' lack of diversity across spokespeople, we won't win.
"But there is a clear roadmap for getting there: invest in a diversity of spokespeople at both the local and national levels who will, in turn, reach a broader spectrum of journalists, news outlets, and audiences. Train, mentor, and help position them as go-to sources for the media. And hold media outlets and individual journalists to a higher standard of equity in their coverage."
Eva Galanes-Rosenbaum, Chief of Staff and Director of Media and Opinion Analysis
Since joining ReThink in early 2013, Eva has led our media, public opinion, and messaging research and analysis work. Her many projects include major benchmark media and opinion audits; longitudinal retrospective audits; synthesized public opinion analyses; message research and guidance; and needs assessments of movements. She is a deeply curious data nerd who loves tough questions and brain teasers.
As of 2019, Eva is transitioning to become ReThink's first Chief of Staff. In this role, she is turning her attention toward organizational brain teasers in the pursuit of our mission.
"We've been tracking gender representation in media coverage for a few years, and I'm happy to see that the balance is improving, albeit slowly," she said. "That doesn't happen on its own, just as better policies around arms control, democracy, or rights don't happen on their own. My aim as a data analyst is to give advocates the tools to take a step back and see what is really going on—which makes it easier to see where the solutions lie."
Dorry Levine, Director of Communications
Dorry works to tell ReThink's story, from managing our website and blog to positioning the organization and its principals as thought leaders in movement-building through advocacy communications. She collaborates with the Analysis team to tell ReThink's story of impact, and designs and delivers external communications campaigns to share stories of ReThink's work, including issue campaigns, coalition efforts, case studies, and wins and assists along the way. Prior to becoming the Director of Communications, Dorry spent five years leading digital strategy for ReThink.
"One of my favorite projects at ReThink has been developing the Building Your Expert Profile training, which has also been incorporated into our signature spokesperson training session," she said. "I love providing individualized feedback to our participants to showcase their expertise and frame themselves as the experts journalists are looking for. These aren't superficial or cosmetic changes—they can make a world of difference in positioning current and up-and-coming spokespeople."
Laura Nixon, Associate Director of Research and Analysis
Laura tracks and analyzes public opinion polling and media coverage for ReThink Media, and manages ReThink's impact tracking and data.
Laura has a strong background in using qualitative and quantitative research methods to inform strategic communication strategy.
"On the Analysis team at ReThink, I help track not only how many women complete our trainings, but also how women's voices appear in the news, how many media hits our trainees get, and the percentage of women who are being quoted in general. This data helps uncover successes and challenges in lifting up women's voices, and informs our program teams' strategy."
Allegra Harpootlian, Communications Manager, Peace and Security
Allegra works with leading experts and organizations on the intersection between national security, politics, and the media. She principally works on the issue of US drones policies, including the transparency of policy overall and the legal framework surrounding targeted killing and the proliferation of military drone technology. She is also a Political Partner with the Truman National Security Project, where she works with other political leaders, advocates, communicators, and journalists to shape and advocate for tough, smart progressive national security solutions.
"One of the first lessons you learn working on an issue that isn't covered in the media very often is how important quotes are to how the story is told. Working on issues of war and peace, the people most affected by America's policies abroad are women and children, yet we hardly ever hear from them. This is why I work to amplify their voices first and foremost when I recommend experts for journalists to speak to."
Firdaus Arastu, Senior Communications Associate, Rights & Inclusion
Firdaus provides strategic communications and media support to projects within the Building Bridges Program of the Doris Duke Foundation for Islamic Arts, which aims to build a deeper and interpersonal understanding of Muslims and Muslim communities in the US.
"For me, centering the voices of women is critical and non-negotiable. The voices of Muslim, Black, Arab, Sikh, South Asian, and Southwest Asian women are systematically overlooked, undervalued, and silenced. At every media opportunity, I seek to find women to feature, as they are the ones on the frontlines and leading the work. That means ensuring that the people we pitch as experts are women, and the people writing the byline are also women, particularly for topics that are dominated by men. And while it's important to take advantage of events like International Women's Day to highlight women, it's important to do it in daily pitching, building of press lists, etc. Most of the panels I curate have been majority women, and many of the pieces I've pitched have been to female journalists. Part of my work as a media relations professional has been supporting and reminding women that they are the right expert and we need to hear their voice in the op-ed pages and quoted in articles."
Yasmeen Ramahi, Communications Associate, Rights & Inclusion
Yasmeen supports projects uplifting Muslim, Arab, Sikh, and South Asian voices through communications training, professional media outreach support, reporter intel, strategic messaging advice, and both public opinion and media analysis.
"Here at ReThink, we know that whoever tells the story shapes the narrative. Empowering women with the skills they need to feel confident sharing their voice and watching them change the discourse one story at a time has been an honor to witness."
Melissa Njoo, Administrative Associate
From her background in working with arts, education, and youth organizations, Melissa brings a wealth of nonprofit administration experience. She is an AmeriCorps alumna who completed two years of service in State and VISTA programs, dedicated to fostering civic engagement and building organizational, administrative, and financial capacity in communities facing poverty and inequality.
"As part of our operations team, I provide administrative and planning support to the work of ReThink. For our Peace and Security team's Women in Nukes skills training, I managed individual travel plans to DC for each participant; it was rewarding to ensure that all the women who attended had a fully positive experience!"
Representation matters, and ReThink strives to elevate and amplify the voices of women amongst its staff and across our movement.