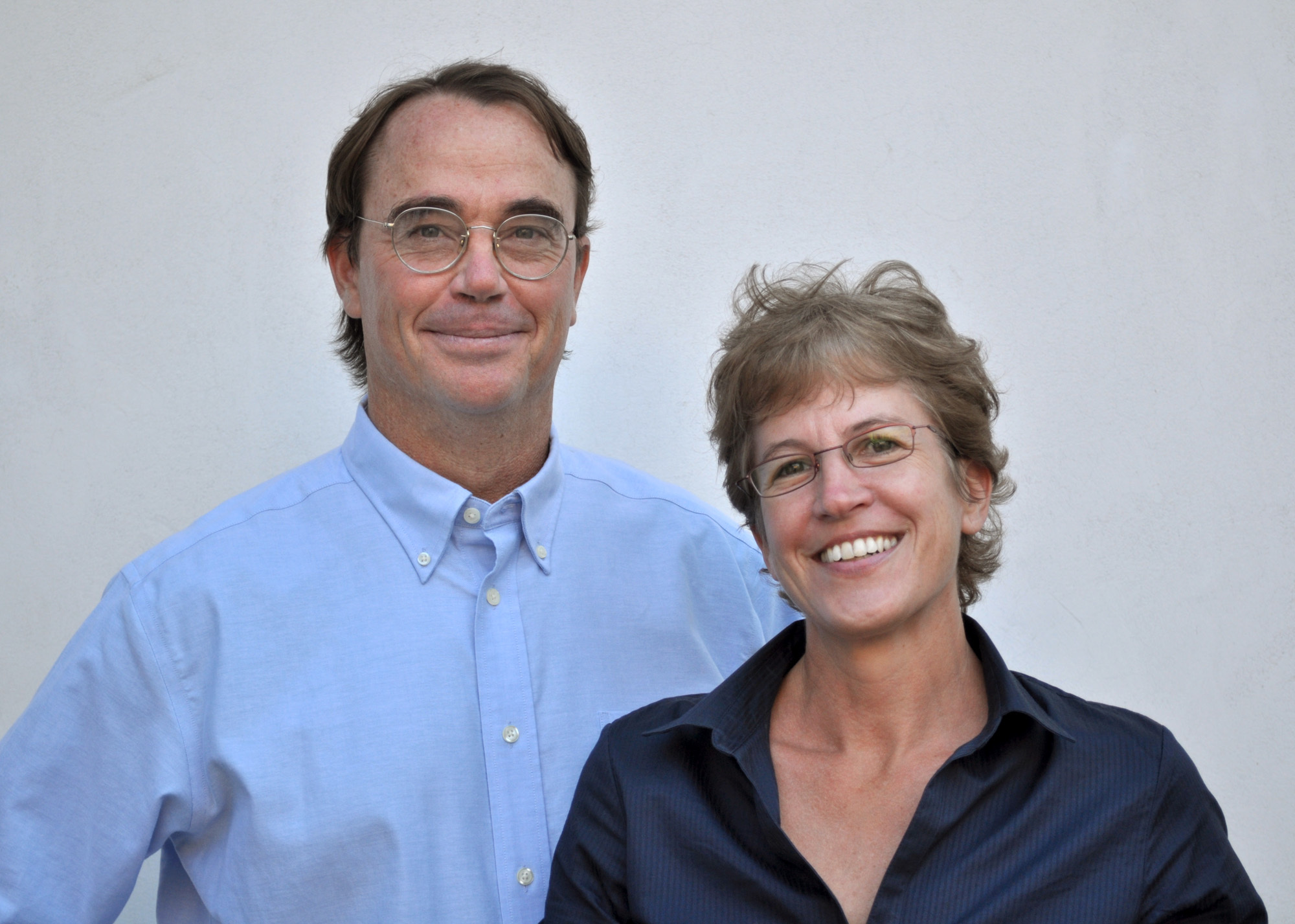 A Change in Leadership at ReThink
Since we work in media and communications, we often find ourselves advising people not to "bury the lede," so we won't do so ourselves: 2023 will be our last year as full-time staff at ReThink.
Some of you know us very well, and we've been movement partners for years.
For others, you know ReThink, but principally through the work of our outstanding colleagues. That outcome is by design.
Our entire model is based on centering organizations and leaders working for a more just and peaceful world. We'll share two phrases that come to mind from our values statement and theory of change: "Our definition of success is helping others succeed" and "We are not interested in receiving public-facing credit."
From the outset, the two of us have endeavored to walk that walk, and we have most commonly worked behind the scenes. On this occasion, however, it makes sense to bring some personal and organizational things forward.
Each of us have worked in movement politics for nearly 40 years, but 18 years ago, we began to imagine a new organization committed to movement-building through the medium of media and communications. As social change organizers, our goal was to help other organizations build their media impact and support them in driving their own narratives. As movement builders, we aimed to promote greater cooperation, strengthen teamwork, and build solidarity. And with our funding partners, we encouraged the philanthropic community to move away from practices that often foster counter-productive competition and instead embrace and make multi-year investments in resourcing sector-wide capacity building, intel sharing, and strategic collaboration.
We are extraordinarily proud of the work that our teams have accomplished over the years, and we are excited to see the organization continue to grow and innovate long after we're gone.
Collectively, we have helped our partner organizations achieve literally thousands of media placements, shaping public narratives and winning real policy victories.
We've pioneered a signature combination of strategic media, opinion, and messaging analysis as core to driving strategy and built the training and support capacity groups needed to drive the winning narratives and measure the outcomes.
We've built a reputation for being there in moments of crisis and have been a trusted friend and ally to dozens upon dozens of organizations.
We've centered the voices of underrepresented and impacted communities and trained hundreds of new and emerging spokespeople, measurably changing the landscape of who is heard in American political discourse.
We've trained communications staff from across the networks of organizations we work with, and our own alumni are in key leadership roles at movement organizations across the country.
And honestly, every single week of the year, we can share examples of our team helping organizations drive their own narratives on their own terms. In the last few weeks alone, we have completed a groundbreaking three-part spokesperson training series for Spanish-speaking democracy advocates, delivered a week-long spokesperson training of grassroots Black, Arab, Middle Eastern, Muslim, and South Asian (BAMEMSA) activists and community leaders in North Carolina, and wrapped up an analysis of a successful collective effort to frame media coverage of the 20th anniversary of the invasion of Iraq.
For us personally, we have always just wanted to do our best to lead with our values as the foundation of ReThink's work. We have strived to ensure that our partners know that we are there for them; that we have their backs. We have developed training tailored to individual groups by listening to their realities and needs. We have worked to understand folks' organizational and policy circumstances. And we have worked in some very emotionally and politically difficult communications environments, often for free, because embattled communities and individuals needed the support.
Honestly, nothing could have made the two of us prouder than when we were told recently that ReThink has a reputation for a tremendous "generosity of spirit."
If that's how ReThink shows up, then we've been successful.
It's a Process
If you know the two of us at all, you won't be surprised to hear that we have been carefully planning this transition. About six years ago, we began quietly working toward a five-year transition plan and discussing it with our board and senior staff. Though some of our timing was disrupted by the necessity of fighting rising authoritarianism and racism, not to mention the pandemic, our goal was to do everything in our power to position ReThink for future success under new leadership.
Starting with the generous support of the Proteus Fund and the Colombe Foundation, we worked with an organizational development consultant to create and execute a multi-year organizational development plan. First, we recruited and onboarded an extraordinarily committed, talented, and diverse Board of Directors. This work has been very intentional. Our board brings together financial, legal, and movement-building expertise, and they're drawn from outstanding organizations. If you haven't had occasion to familiarize yourself with them, we encourage you to read their bios.
We've also strengthened our staff leadership team. Our Chief of Staff, Eva Galanes-Rosenbaum, has a decade of experience with ReThink and a wealth of experience with our analytical work and organizational development. Our Director of Programs, Burt Edwards, is a highly experienced media strategist. Our Director of Finance, Fadwa Rashid, brings exceptional talent to our financial and systems management. And our People Operations Manager, Melissa Njoo, has steadily grown our HR systems over four years at ReThink.
While there is always room to improve, based on a recent equity audit, an executive search firm evaluation, and a benefits and HR review – we are pleased to say our financial management, HR systems, DEIJ programs, and our internal professional development curriculum are all top-tier. And our work is continuously driven by diverse, talented, and ambitious program and analysis teams.
Brass tacks
To anticipate a few questions…
Our Board of Directors hired a search firm to lead the Executive Director hire process and fill Lynn's job. They received an overwhelming number of applicants and conducted a very thorough series of interviews involving our staff, the Board, and a panel of partner organizations representing all of our program priorities. If you're curious, you can see the job description here and learn about our compensation philosophy and other core organizational values here.
An announcement will be coming soon, but suffice it to say all of the finalists were deeply committed to ReThink's core goals of strengthening movements through communications capacity-building and collaboration, centering under-represented voices and impacted communities, and building a powerful pipeline of new communicators and spokespeople whose work will impact movements for decades to come.
The new director will get to work with an amazing staff and support the communications of not just a single organization but with the communications infrastructure across movements. They'll get to work on issue campaigns powered by data-driven research strategies and informed by a deep understanding of the media landscape and public opinion, coupled with political and cultural competence across each of our current issue areas and teams.
Our top priority is a smooth and effective transition to the best possible leadership. Accordingly, we will provide extensive advisory support to ReThink's new leadership. We also expect to stay on as senior trainers and senior advisors. Once the new ED starts, however, we will begin moving away from the day-to-day operations and decision-making of the organization.
As the lead with our program teams, Peter took a primary role in recruiting his replacement last fall and has been steadily transitioning many of his responsibilities to Burt Edwards. The two of them have developed an extensive, nearly one-year transition process and are co-leading the development of our core 2023–24 strategic program plans and our training and staff development curriculum.
On a personal note
It is important to both of us to express our deepest gratitude for the partnership and friendships we have shared with the movement colleagues we have had the honor and good fortune to work with. We are also grateful to have had the opportunity to work alongside an incredible staff – colleagues who have been an absolute inspiration over the past 16 years.

We have always felt that it is an enormous privilege to have been able to live our lives in service of a better world. We aimed to honor the trust that folks place in ReThink through hard work, an unfaltering commitment to movement-building, and to social change more broadly. We have endeavored to be honest and forthright colleagues and strategic partners, sharing lessons learned—both good and bad—while striving to make our movements stronger and more impactful. And along the way, we have tried to emphasize and stay true to our own core values and be human.
Once again, folks who know the two of us well won't be surprised to hear this, but we will also be beginning the process of launching a new business and a new organization.
We won't get into the details here but suffice it to say that we will be pivoting to focus on the creative projects that have defined the other half of our work-life balance for decades. It will focus on a reverence for things that provide joy and sustenance in this world but infused with the values of movement politics. If you'd like to know more, we're happy to talk. Just give us a shout.
In solidarity and with much appreciation,
Lynn and Peter
PS. Full disclosure: we used a ten-year-old photo for this post because we like it, and because it captures an entrepreneurial moment in ReThink's life.